Linberta 01LSTAC G2 TACTICAL SEMI AUTO 12ga, 20" *CA Aprvd
Linberta 01LSTAC G2 TACTICAL SEMI AUTO 12ga, 20" *CA Aprvd
Model


SA01LSTAC20

Condition


Factory New

Bud's Item #


411551704

UPC


8680606000042
LINBERTA MODEL 01LSTAC (GEN 2) TACTICAL SEMI AUTOMATIC SHOTGUN 12 GA. 20" BEST FOR HOME DEFENSE AND TACTICALBLAZING FAST CYCLING GAS OPERATED SYSTEMBLACK SYNTHETIC, PISTOL GRIP, 20 "WITH A FREE 25 SHELL BELT!! (Worth $25) (Shells not included)
Linberta 01LSTAC G2 TACTICAL SEMI AUTO 12ga, 20" *CA Aprvd
Model


SA01LSTAC20

Condition


Factory New

Bud's Item #


411551704

UPC


8680606000042
LINBERTA MODEL 01LSTAC (GEN 2) TACTICAL SEMI AUTOMATIC SHOTGUN 12 GA. 20" BEST FOR HOME DEFENSE AND TACTICALBLAZING FAST CYCLING GAS OPERATED SYSTEMBLACK SYNTHETIC, PISTOL GRIP, 20 "WITH A FREE 25 SHELL BELT!!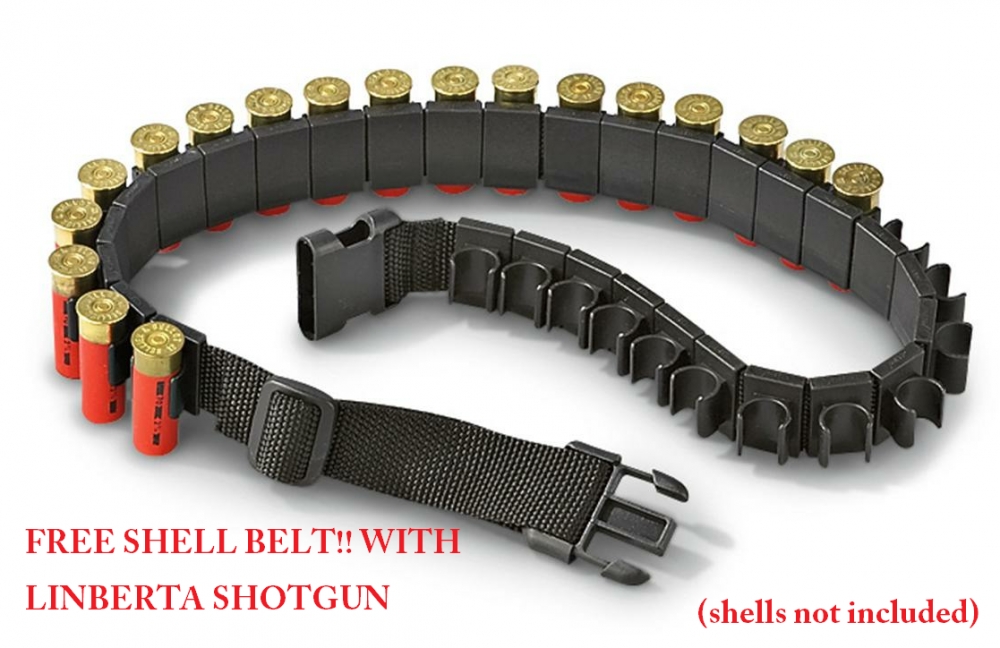 We have shot these Linberta shotguns ourselves here at our range and they run flawlessly, a real pleasure to shoot. The gas operated semi-auto action is lightning fast ! Unlike most semi-auto shotguns, the Linberta 01LSTAC shoots all regular and higher loads without changing any parts on the gun. The Linberta 01L series comes standard with many features normally only found on more expensive semi auto shotguns, including:
Trigger guard made of T7075 Aluminum and anodized. Receiver made of T7075 Aluminum and anodized.Barrels made of 4140 grade steel, drilled from solid block , honed, interior white, exterior black chromed .Top rail specially made to fit grooved receiver to prevent any disconnection or movement when shooting.Interior parts are specially heat treated using the same process used on top quality car parts for German cars. Thicker internal parts and a single piece rock solid action bar for longer life.5+1 rounds capacity Interchangeable choke system (Beretta/Benelli Mobile compatible chokes), comes with Muzzle Brake and Cylinder Hard Chrome Choke.2 additional shims for stock adjustmentGhost Ring SightsSling Studs Recoil Pad Synthetic Stock With Vertical Pistol GripNo plastic O'ring used. All metal and rock solid interior parts.3 year (1 year Full+ 2 years parts ) + 10 years parts availability warranty .
THIS GUN IS NOT LEGAL TO OWN IN NEW YORK OR NEW JERSEY.