2010 2nd Amendment Dollar - Limited Numbered Issue
This Item is Currently Out of Stock
2010 2nd Amendment Dollar - Limited Numbered Issue
Model


NUM2010

Condition


Factory New

Bud's Item #


411539705
­­

*Limited Numbered Issue* 2010 Second Ame­ndment Dollar One Ounce .999 Fine Silver

The demand and support for our Second Amendment Silver Gun Dollars has exceeded expectations. Before production even started, we had hoped that this commemorative issue would be admired and treasured for years to come.

When the mint first started producing the 2010 Gun Dollar, we requested that 100 of the very first dollars be set aside. The­se have now been individually hand numbered for a very special Limited Numbered Issue that is strictly limited to only 100 Gun Dollars.

­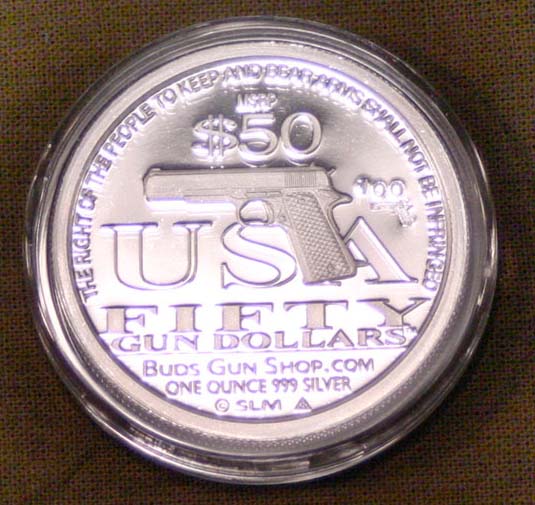 Like our Brilliant Uncirculated Issue, the Limited Numbered Issue is minted with one ounce of .999 Fine Silver and measure 39mm.

In addition to the individual hand numbering, every Second Amendment Dollar has been hand stamped with a special micro hallmark of the famous 1911 Handgun that is featured on the reverse. Each Limited Numbered Issue is then carefully sealed in a tamperproof plastic capsule.

Each Limited Number Issue includes a solid wood mahogany colored display presentation case lined with satin and velveteen. This First Year of Issue is completed with a Certificate of Authenticity, each has been hand signed by Mr. Bud Wells, owner of BudsGunShop.com, and hand embossed with a custom Gun Rights logo.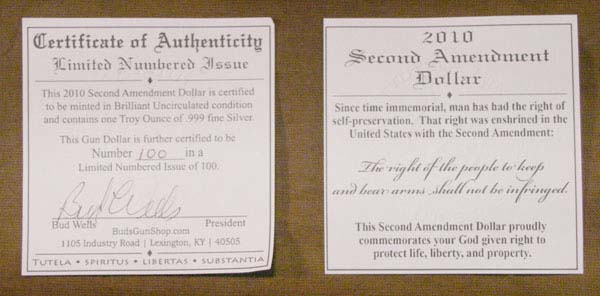 This Limited Numbered Issue is strictly limited to only 100.
These pieces will have slight imperfections due to the hallmarking process and the fact that they were some of the very first specimens out of the press.
*** NOTICE: Second Amendment Dollar is a commemorative medallion that is not intended to be used as currency and any representation as United States currency is strictly prohibited by law.