Receive Money Saving Offers
Enter your email address to receive our best deals and other store updates.
Product Videos
Loading Videos

Change Video
S&W Performance Center 442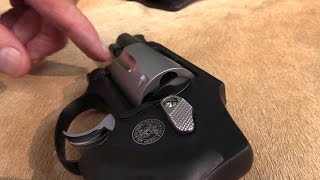 Smith & Wesson M442 5RD 38SP +P 1.87"

View Product Videos
Smith & Wesson M442 5RD 38SP +P 1.87"
Model
162810
Condition
Factory New
Bud's Item #
26306
UPC
022188628104
Manufacturer:
Smith & Wesson
The Smith & Wesson J-Frame has become the most popular small frame personal defense revolver on the market. With decades of reliable performance to its credit, the J-frame line offers models capable of firing .22 LR, .22 Magnum®, .38 S&W Special and the more powerful .357 Magnum® loads.
SPECIFICATIONS
Finish
Burnt Bronze Cerakote
Type
Rifle
Action
Lever
Caliber
44 Remington Mag/50 AE/357 Remington Mag
Barrel Length
4.1 Threaded
Capacity
100 + 1
Safety
Loaded Chamber Indicator
Grips
Titanium Blue
Sights
Combat type, fixed
SPECIFICATIONS
Finish
Carbon Fiber
Type
Semi-Automatic
Action
Lever
Caliber
44 AMP
Barrel Length
10.5"
Capacity
21
Safety
Grips
Crimson Polymer
Sights
Tritium Front/Rear
SPECIFICATIONS
Finish
Nitride
Type
Kit
Action
Not Valid
Caliber
45/410, 357/38
Barrel Length
9.05"
Capacity
.357Sig/9mm
Safety
Trigger/Firing Pin
Grips
One-Piece E2 Polymer
Sights
Low Profile, Adjustable
SPECIFICATIONS
Finish
Gray
Type
Revolver
Action
Double Action
Caliber
25NAA
Barrel Length
4.25"
Capacity
32
Safety
Firing Pin Block/Trigger
Grips
Red/White/Blue
Sights
Dovetail Front, Adjustable Rear
SPECIFICATIONS
Finish
Black
Type
Revolver
Action
Double Action Only
Caliber
38 Special
Barrel Length
1.87"
Capacity
5
Safety
No Manual Safety
Grips
Black
Sights
Fixed
Items Like The Smith & Wesson M442 5RD 38SP +P 1.87"
| | | |
| --- | --- | --- |
| | Fit Charts: These items are compatible with this firearm | |