Proceeds Benefit Gun Rights!

Don't miss your chance to own a
very unique piece of history!
Since the first day we announced the 2020TRUMPXXXX rifles from Henry we started receiving requests for a handful of "special" serial numbers - one of the most requested being the very first 2020TRUMP0000. We have decided to set aside that rifle and donate to the NRA Firearms For Freedom non-profit auction efforts, with 100% of the winning bid amount going to the NRA. We realize not everyone who wants this rifle can possibly win this one auction to benefit the NRA. Therefore, we have provided a way for customers who want to purchase a rifle and also make a donation to the NRA to do so, by using coupon code 2020TRUMP. Buds will donate $10 from each rifle purchase through the end of October when a customer chooses to use coupon code 2020TRUMP.


This very collectible 2020TRUMP0000 firearm is sure to increase in value over the years as the history-making TRUMP legacy continues to unfold. The auction is live now and will run for one week, ending on October 23rd, 2019.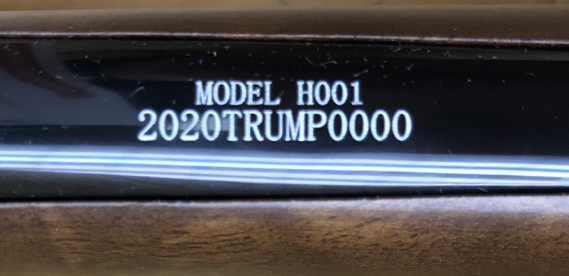 We continue to accept Reserve Orders from customers who want to select their serial numbers from those remaining on the list. Customers have the opportunity to pick their number(s) from the list during the Reserve Order checkout process.

The Henry Repeating Arms motto of "Made in America or Not Made At All" is synonymous with President Trump's MAGA and "Made in the USA" message. What better way to show your support for these patriotic messages than to own one of these highly collectible rifles?

The first production run opened up serial numbers 2020TRUMP0101 through 2020TRUMP1700*. You can request any serial number within this range with your single rifle order. You can also order multiple rifles and request consecutive serial numbers by specifying the quantity of rifles you want and the starting serial number. For example, you can order 3 rifles and specify serial number 2020TRUMP0123 to request serial numbers 2020TRUMP0123, 2020TRUMP0124, and 2020TRUMP0125.

*Please be advised that the final number of these rifles produced will be determined by the customer demand. As blocks of serial numbers are sold out, new blocks may be produced to meet demand, but not to exceed a maximum of 5000 rifles or serial number 2020TRUMP5000. Serial number commitments will be confirmed on a first come, first served basis.

Henry H001 Lever Action .22LR
Serial Number 2020TRUMP0000



Coupon code valid through October 31st, 2019.
Distributed by eGunner.com, 1105 Industry Rd, Lexington KY 40505.