BudsGunShop.com uses cookies to ensure you get the best experience. Details can be found in our Privacy Notice.
Russian Molot Vepr 12 Semi Auto Shotgun - Blue/Black, 22" Barrel, 5+1 Rounds, Synthetic, 3" Chamber
21

Reviews
|
0

Questions & Answers
Bud's Item Number:
411552723
Locate FFL
Please enter your ZIP Code below, to find the closest FFL Dealer in your area. Then choose "Find Dealers".


**Mouse over image above to zoom any area, or click on image to zoom the entire image.
VEPR 12 GAUGE SHOTGUN

• 2-3/4" and 3" shells
. BARREL LENGTH is 22 inches
·Original Molot Polymer Pistol Grip
·Original Molot Polymer Lower Handguard
·Original Molot Polymer Upper Handguard
·Original Molot Wooden Stock
·Molot Self-Regulating Gas System
·Original Molot Competition Magazine Well
·Includes (2) Original Molot Factory 5 round Magazine
·Molot Factory AK adjustable rear sight with Hinged dust cover with a picatinny rail
·Molot Original AK enhanced safety lever, single finger operation
·Factory chrome lined barrel, chamber, receiver shaft and gas chamber
·Factory last round bolt hold open feature
·Factory threaded barrel (thread pattern is the same as Saiga)
·Factory machined bolt assembly, gas blocks etc. (not cast like other AK shotguns)
.12 gauge with 3 inch chamber
All come with "SPEED MAGAZINE RELEASE "
TWO- 5 round mags per unit .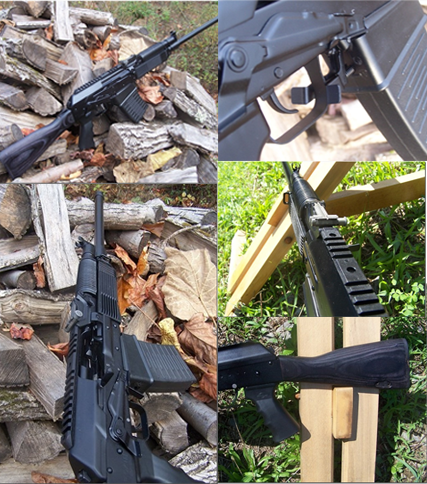 Product Information
Metal Finish
Blue/Black
Gauge
12 Gauge
Barrel Length
22
Overall Length
N/A
Trigger
N/A
Safety
Manual Safety
Capacity
5+1
Stock Material
Synthetic
Drop
N/A
Ignition
N/A
Chamber
3"
Stock Color
N/A
Retail Store Availability
*Please Note!! Many of our pictures are stock photo\'s provided to us by the manufacturer and do not necessarily represent the actual item being purchased. Please verify this picture accurately reflects the product described by the title and description on this page before you place your order.
Product Videos
Loading Videos

Out of Stock Products
Products marked OUT OF STOCK are currently unavailable for purchase.
Receive Money Saving Offers
Enter your email address to receive our best deals and other store updates.
---
Enter your phone number to opt-in to receiving our best deals via text*
Find Accessories For My Gun
Have a Question?
As a whole our 4+ million customer's know more about firearms than we do. If you have a general question about a product we highly recommend that you first try out our customer Q&A feature. More often than not you will receive multiple answers to your question in minutes.
Receive Money Saving Offers
Enter your email address to receive our best deals and other store updates.
Catalog
Information
FAQ
,
The Shooting Bench Blog
,
How to Buy a Gun Online
,
How to Purchase NFA (Class III)
,
Don't Lie for the Other Guy
,
Why Buy From Buds?
,
Payment Options/Cancellation Fees
,
Shipping & Returns
,
State Restrictions
,
Warranty
,
Team Buds
,
Recent Reviews
,
Accessibility Policy
Partners
Copyright © 2003-2023 BudsGunShop.com
All Rights Reserved. (NW1)