2017 Limited Issue Gun Dollar Sets
**Mouse over image above to zoom any area, or click on image to zoom the entire image.
2017 Commemorative Gun Dollar Coin Set Released for the Holidays!
BudsGunShop.com is proud to present Second Amendment Gun Dollar gift sets for the 2017 holiday season! These Limited Issue Number gift sets are perfect for the gun collector on your list.
For five years during the height of the political uncertainty surrounding our gun rights, we issued thousands of Gun Dollars in gold, silver, and copper. 2017 has given us a chance to catch our breath and reflect on those years.
Due to the immense popularity of the gun dollars, the remaining pieces continue to be a steady seller. In fact, we recently realized we only have 126 of the 2011 silver prices left! One Hundred of these have been set aside to create a complete numbered set of all the half ounce silver Gun Dollars. With this offering, we are also including an identically numbered set of the three copper dollars minted between 2012-2014.
Since 2014, when we stopped issuing Gun Dollars, we have sold firearms to well over a million new customers. Many of them are likely learning about Gun Dollars for the first time. This may be your final chance to create a collection of these historic pieces. These will never be minted again! Once they are gone, they are gone.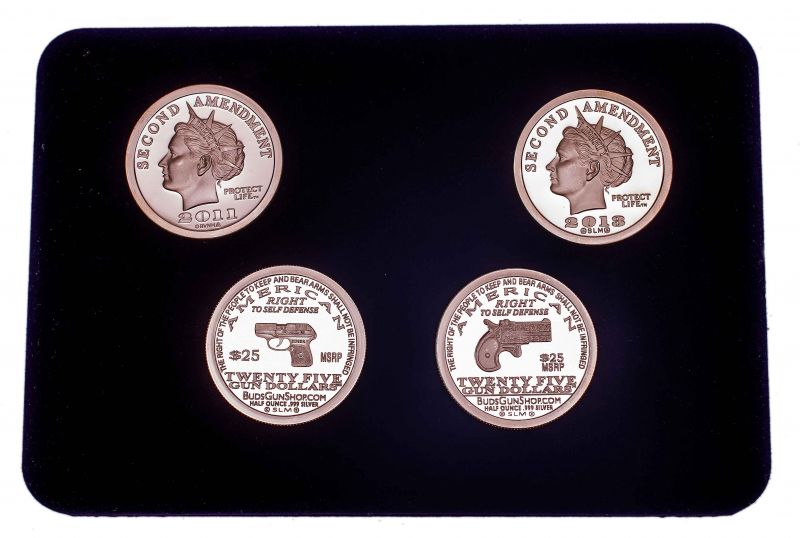 "Since time immemorial, man has had the right of self-preservation. That right, to defend and protect one's life, family and property, was enshrined by the Founding Fathers of the United States in the great Second Amendment to the US Constitution.
Long live the Second Amendment: THE RIGHT OF THE PEOPLE TO KEEP AND BEAR ARMS SHALL NOT BE INFRINGED!
Now, the Second Amendment is commemorated in these Limited Number Issue coin sets dedicated exclusively to that Right. A man's home is his castle. He has an inherent right to protect it and that right shall not be infringed.
This 2017 Limited Number Issue commemorative set includes one coin minted for each year between 2011-2014 for our Silver Collection, and one coin minted for each year between 2012-2014 for our Copper collection. During years of political uncertainty for our country and gun ownership rights, these Second Amendment Gun Dollars were, and still are, a terrific statement to Americans' right to keep and bear arms.
BudsGunShop.com, a proud supporter of the Second Amendment, is pleased to offer this Second Amendment Dollar collection so everyone can commemorate his and her right to Protect Life.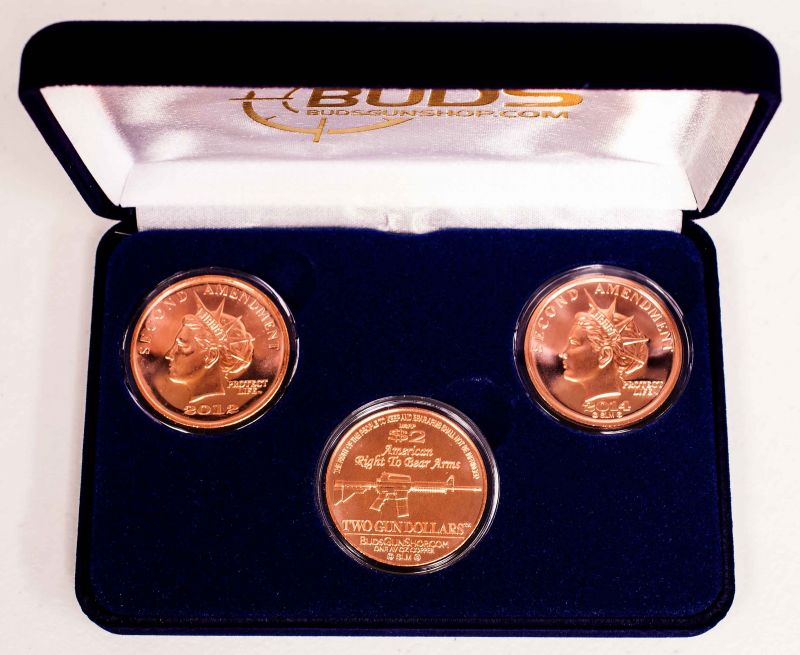 The 4-piece Second Ammendment Dollar silver collection is certified to be minted in Brilliant Uncirculated condition and contains two Troy ounces of .999 fine silver. The 3-piece copper collection is also certified to be minted in Brilliant Uncirculated conditions and contains three AV ounces of pure copper.
Each Limited Number Issue ships with the copper and silver collections,  both featuring a blue velvet display presentation case lined with satin and velveteen. Each issue also includes a hand numbered Certificate of Authenticity, hand embossed with a custom Gun Rights logo.
gundollar
This Limited Numbered Issue is strictly limited to only 100.
*** NOTICE: Second Amendment Dollar is a commemorative medallion that is not intended to be used as currency and any representation as United States currency is strictly prohibited by law."