BudsGunShop.com uses cookies to ensure you get the best experience. Details can be found in our
Privacy Notice
.
Out of Stock Products
Products marked
OUT OF STOCK
are currently unavailable for purchase.
Receive Money Saving Offers
Enter your email address to receive our best deals and other store updates.
Product Videos
Loading Videos

Locate FFL
Please enter your ZIP Code below, to find the closest FFL Dealer in your area. Then choose "Find Dealers".


Ruger Redhawk .44 Mag 5 1/2" Satin Stainless (KRH-445)

- Maximum Quantity: 2

View Product Videos
**Mouse over image above to zoom any area, or click on image to zoom the entire image.
New In Box. Part Number:5004
Buds Item Number: 70243
Product Information
Finish
Stainless
Action
Single/Double
Caliber
44 Remington Magnum
Barrel Length
5.5"
Capacity
6
Safety
Transfer Bar
Grips
Wood
Sights
Adjustable
Product Information
Finish
Shadow FDE
Action
Recoil Operation
Caliber
410
Barrel Length
2.25"
Capacity
72
Safety
Grip and Trigger
Grips
Snakeskin
Sights
X-Green
Retail Store Availability
*Please Note!! Many of our pictures are stock photo\'s provided to us by the manufacturer and do not necessarily represent the actual item being purchased. Please verify this picture accurately reflects the product described by the title and description on this page before you place your order.
Find Accessories For My Gun
Ruger Redhawk .44 Mag 5 1/2" Satin Stainless (KRH-445)
Model
5004
Condition
Factory New
Bud's Item #
70243
UPC
736676050048
Manufacturer
Ruger
New In Box. Part Number:5004
Buds Item Number: 70243
Product Information
Finish
PVD
Action
Roller Delayed Blowback
Caliber
308 Winchester (7.62 NATO)
Barrel Length
11.5"
Capacity
5+1/6+1
Safety
Trigger/Firing Pin/Drop
Grips
Interchangeable Backstrap
Sights
Dovetail 3-Dot; Suppressor Height
Product Information
Finish
POlished Stainless Slide, Arctic Frost Frame
Action
Sliding Breechblock
Caliber
22 Long Rifle/22 Magnum
Barrel Length
3.57"
Capacity
7/8
Safety
Checkered G-10
Grips
G10 Checkered Blue
Sights
Integrated
Product Information
Finish
Stainless
Action
Single/Double
Caliber
44 Remington Magnum
Barrel Length
5.5"
Capacity
6
Safety
Transfer Bar
Grips
Wood
Sights
Adjustable
Product Information
Finish
Satin Black Oxide
Action
Not Valid
Caliber
38 Special P
Barrel Length
3.5
Capacity
10+1/14+1
Safety
Ergonomic safety lever
Grips
Simulated Ivory
Sights
Serrated Ramp/Fixed
Top 1 Similar Items
Sort by: Most Popular | Lowest Price | Highest Price
Current Item
Stainless
N/A
Single/Double
44 Remington Magnum
5.5"
6
Transfer Bar
Wood
Ruger
Cimarron BAD BOY S/A .44 MAG 8 Black TGT 6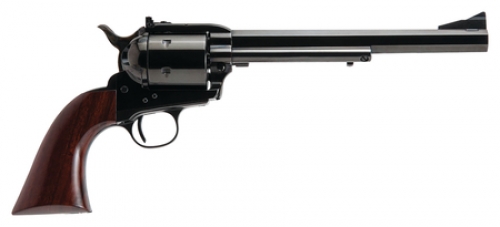 Blued
Revolver
Single
44 Remington Magnum
8"
6
N/A
Wood Walnut
Cimarron
Items Like The Ruger Redhawk .44 Mag 5 1/2" Satin Stainless (KRH-445)
20 Reviews. 4.8 out of 5 Stars!
| | | |
| --- | --- | --- |
| 5 Stars: | | 90% (18 of 20) |
| 4 Stars: | | 5% (1 of 20) |
| 3 Stars: | | 0% ( of 20) |
| 2 Stars: | | 0% ( of 20) |
| 1 Stars: | | 5% (1 of 20) |
Display All Reviews
Write Review
Reviewed By: Peter K on 09/30/2019
This gun rules. Heavy enough to manage the recoil. It's a real cannon.

Reviewed By: Jim A on 06/11/2019
I am happy, as usual, with the product and service I received from Buds on this Ruger Redhawk 44magnum. However, Buds won't update my FFL dealer's cost ($50) on the website despite my FFL dealer's assurance to me that they have repeatedly asked that this be done. Fortunately, my dealer agreed to only charge me what is listed on Bud's site ($35). I trust they're telling me the truth and not falsely stating a low fee and then gouging customers at the time of firearm pickup. What is the problem here with Bud's?? This is a major hassle for customers!

Reviewed By: Tony V on 05/28/2019
I recently purchased this Redhawk 44 Magnum from Buds Guns and been to the range twice shooting more than 200 rounds. The 1st range visit, I had the regular wood stocks which worked well with 44 Special and midrange 44 Magnums but was unable to get "perfectly zeroed" because I had the wrong flathead screwdriver. After a quick forum search, trip to the hardware store for a 3/32 flathead screw driver and some rubber Hogue grips, the 2nd range trip was a complete success! This Redhawk trigger pull (single/double) started out heavy, but smooth out nicely by the 2nd range trip. Definitely would recommend purchasing the Redhawk (along with a set of rubber Hogue grips) from Buds Guns; the price was awesome and the quick shipping was even better!

Reviewed By: Miles L on 05/08/2019
This is my first 44 mag and my first double action revolver. I gotta say, this is definitely an impressive hand cannon! Very clean, simple, no nonsense revolver that will get the job done without sacrificing quality. Recoil is certainly noticeable with hot rounds but nothing to fear. If you plan on putting hundreds of rounds at a time through it though, I might suggest low power rounds. One tiny negative about it for me is the grips. They're beautiful to look at, and for the most part they are comfortable, but they don't have much weight to them and the gun sort of feels top heavy after holding it awhile. Besides that this is definitely one I'd recommend!

Reviewed By: Richard W on 12/10/2018
Hey Ruger, Purchased this gun without ever holding one in my hand. I have owned various Ruger products. Like many guns I have owned and window shopped for they had pros and a few cons. If you are looking for a solid, well built and designed, confidence handling, large caliber, double action, beautiful lines that will bring you back to the rugged feel and command of the Old West or Dirty Harry, "This is the Gun for You!" This gun is not for most of the ladies or anyone with a week wrist or grip. This 44Mag/Special has power and I suspect would stop any manor of target. I consider it to be a short range design used for defense when hunting in woods or close in defense. The cylinder and ammo ejector works well after several rounds. The Cons. This pistol comes with some of the most beautiful rose wood grips I have ever received on a stock gun. They are just to small for this large of a piece. Enter the Hogue Products Solution. Hogue has the perfect grip for this solution. After this application I was able to secure and deploy this pistol with a great deal more confidence. It was fun to shoot before the change and now it is a pleasure. I also suggest the Safariland Speed loaders.

Reviewed By: Mel B on 10/26/2017
I received my Ruger Redhawk .44 Mag with a 51/2" barrel a week ago and am really pleased with it. The fit and finish are excellent. The wood grips fit perfect. Previous Rugers had the "Read Owners Manual" stuff stamped on the barrel. This one doesn't and it really adds to the appearance. The machined seam between the trigger guard and frame is great. It's hardly noticeable. Ruger's website has excellent videos on disassembly and reassembly and I took the Redhawk apart a couple of times before I fired it to inspect it and get familiar with it. The way the main spring is situated results in a smooth trigger pull. The Redhawk's cylinder chambers are already chamfered slightly to make loading with speed loaders easier. Older revolvers didn't have the chamfer and sometimes bullets could be nicked or scratched slightly when loading in the chambers and when used in a timed event the lack of the chamfer made reloading slower. I like the idea of being able to shoot .44 Mag and .44 Spl in this gun. The gun is built tough. I'm used to the Ruger GP 100's so the transition to the heavier .44 Mag was not a problem. If you're looking for a .44 cal this one is great.

Reviewed By: JOSEPH C on 07/21/2017
Im glad I'm a team buds member.very pleased with my purchase an the way you's do business.i will always use you's.

Reviewed By: Greg W on 03/15/2017
Great woods gun. This barrel length is proving perfect for what I wanted....carrying along while deer and hog hunting. Excellent accuracy and solid frame soaks up recoil really well. Ruger makes great products and their Redhawk line can be trusted. Cool thing about this one is that it's made without all the legal script along the barrel that they used to use. Nice clean lines and no unwanted stampings.

Reviewed By: albert r on 05/21/2016
smooth transaction great bud's service. have delt with them before and will again

Reviewed By: David C on 04/07/2016
I have had nothing but good service from Buds, I originally put on layaway a Super Blackhawk hunter. Then a month later they called me to say it was out of stock, and yes why did it take them that long who knows. They did make it right I switched it over to the redhawk and the gave me $40.00 of and a $20.00 gift card. I thought that was great. When I paided it off it was shipped the next day, and arrive on Tuesday and wasn't expecting it to Friday. The redhawk was great I did notice at pick up that the seam on the trigger housing wasn't seamless in a 3/4 of inch section on the cylinder release side. I choose not to send it back since it wasn't a big deal and I can always deal with ruger about it. So The service exceptional as normal and the gun is outstanding no complaints. I've already put the hunter on layawy so its all good I recommend buds its always been good to me

Important Message
We have reassigned the majority of our staff to process and ship existing orders, customers with existing orders are our priority. All remaining customer service staff are now only taking Live Chat requests until further notice. On average there is currently a 30 minute wait time to speak with someone.
As a whole our 2.5+ million customer's know more about firearms than we do. If you have a general question about a product we highly recommend that you first try out our customer Q&A feature. More often than not you will receive multiple answers to your question in minutes.
Speak with a Live Chat representative
We appreciate your patience and understanding.
Receive Money Saving Offers
Enter your email address to receive our best deals and other store updates.
Catalog
Information
FAQ
,
How to Buy a Gun Online
,
How to Purchase NFA (Class III)
,
Don't Lie for the Other Guy
,
Why Buy From Buds?
,
Payment Options/Cancellation Fees
,
Shipping & Returns
,
State Restrictions
,
Warranty
,
Team Buds
,
Recent Reviews
,
Accessibility Policy
Partners
Copyright © 2003-2021 BudsGunShop.com
All Rights Reserved. (NW3)