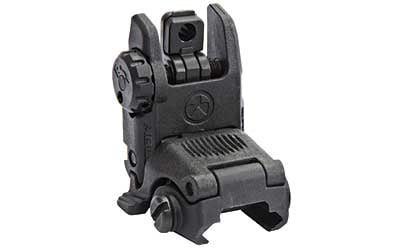 Reviewed By: on 10/09/2021
Bought this rear sight for my new Del-Ton AR-15 that does not come with one.At the range at 50 yards was grouping as well as my other AR with a scope.Nice sight.

Reviewed By: on 06/17/2020
Used on my radical AR pistol. Works very well

Reviewed By: on 05/14/2020
Using as a backup sight for my FX9, works fine.

Reviewed By: on 04/02/2020
No idea why these are 1) do darned popular, and 2) so darned expensive. Probably because they work, they're simple, and they're rugged without being heavy. Now, if they could only make more so I could buy more.

Reviewed By: on 03/05/2020
Magpul MBUS...a standard that you can rely on. Mounts easily, is easy to zero, and deploys/collapses as it should. Great sight.

Reviewed By: on 01/30/2020
Had to slide it on from the front. I had to tighten this a little more than the front sight, as I put it on the metal metal rail.

Reviewed By: on 12/06/2019
Nice backup sight. Perfect for AR platform.

Reviewed By: on 10/08/2019
This is a great sight, I've put them on two weapons and I am very happy with them.

Reviewed By: on 07/20/2019
Bought front and rear Magpul pop-up sights for my new Ruger AR556. Easy to mount and sight-in. Mounted a co-witnessed red-dot. Love that setup. Iron sights are accurate and are there in case the red-dot ever goes dead. I'd buy these sight again and probably will.

Reviewed By: on 03/28/2019
Does it's job and built well