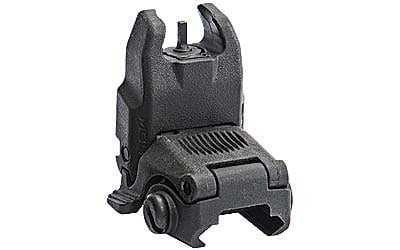 Reviewed By: on 07/20/2020
does the job what else do i need to say.

Reviewed By: on 06/17/2020
Used on my Radical AR pistol, works very well.

Reviewed By: on 05/14/2020
Using as a backup sight for my FX9, works fine.

Reviewed By: on 04/02/2020
No idea why these are 1) do darned popular, and 2) so darned expensive. Probably because they work, they're simple, and they're rugged without being heavy. Now, if they could only make more so I could buy more.

Reviewed By: on 01/30/2020
Slid right on, very easy. Even comes with an adjustment tool.

Reviewed By: on 10/08/2019
This is a great sight, I've put them on two weapons and I am very happy with them.

Reviewed By: on 09/30/2019
Ordered the Magpul MAG247-BLK Front MBUS Gen II Black and Magpul MAG248-BLK Rear MBUS Gen II Black to mount on a Del-ton 316L Sierra. The rear sight slid on just fine but the front sight did not. When attempting to install it as recommended, I could not get it on the rail but if I reversed it, I could. I let it sit for a while, ran it back and forth along the rail a couple times and then was able to install it as indicated in the instructions. I removed it a couple more times to make sure it would continue to install with no further problems and did not experience another problem. Both sit firmly on the rail but I haven't test fired the rifle as yet, that will be the true test.



Good news - the front site comes with small, plastic sight adjustment tool as well.



There is no slop in the sight either when extended or locked down.



Over all I'm please with the sights and look forward to testing the rifle.

Reviewed By: on 08/26/2019
I can't say enough about Bud's and the low prices. Granted, there's always a little bit of a trade off, but if you do your research, ask the right questions, and insist of knowledgeable answers, you'll come out way ahead dealing with Buds. As for this part. excellent and exactly what I expected from a Magpul flip up backup sight. Could it be better, Yes, but at the price this is just what I needed. Thanks Bud's. Keep it up.

Reviewed By: on 02/14/2018
As always mbus is flawless. Sight you can trust. Thank you Buds for the fast shipping to Saipan

Reviewed By: on 03/07/2017
I have not fired the rifle that I got the sights for but they fit mountings fine