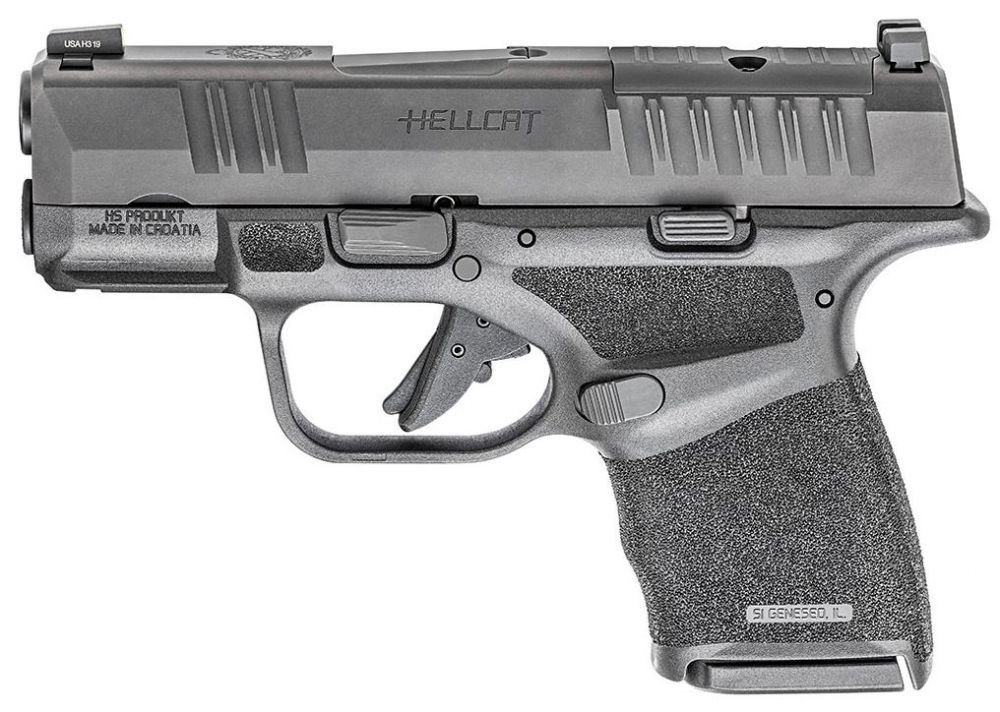 Reviewed By: on 10/05/2021
First-time using this site to purchase a firearm and my experience was awesome!!! The shipping was quik and very easy to track. The product came in great conditions as expected, nothing to regret... exited in making another purchase in the future.

A+

Reviewed By: on 09/04/2021
Outstanding Firearm and Met expectations as described by Buds

Reviewed By: on 08/03/2021
Lightweight. Small form factor. Excellent concealed protection, even with the 13 rd magazine, or the 11, not too big. And super fast delivery from Buds.

Reviewed By: on 06/03/2021
Product price was right on MSPR. Although I'm in Puerto Rico, shipping was supper fast! Will buy from Buds again and already recommended to friends.

Reviewed By: on 03/30/2021
Buds had exactly what I was looking for at a fair price. Fast shipping to my local dealer.

Reviewed By: on 01/27/2021
Great gun. Great website.

Reviewed By: on 12/08/2020
Hellcat is a very compact gun and fun to shoot. Buds layaway is great for getting the gun you want.

Reviewed By: on 10/06/2020
Overall I%u2019m impressed with the hellcat. Very slim and light. Performance wise the hellcat is ok good for a every day carry.

Buds as always is amazing. Shipping was quick and and painless. They even offer an option for layaway if you%u2019re a team buds member. Will continue to be my go to store.

Reviewed By: on 09/01/2020
Nice little pistol. It feels really good in hand and good ergonomics for such a small pistol. It has a really smooth trigger with a nice clean break and a relatively short reset. I also didn't find it to be any snappier than the P365 I owned. The fit and finish of the gun are very good as well and it was reliable with the few rounds I put through it when I picked it up.

Reviewed By: on 07/25/2020
This micro compact is simply SUPERB! I have been a loyal GLOCK purchaser for about 25 years. Now that has changed. Thinking about selling them all!

GLOCK has been left in the dirt! I asked GLOCK in the 90's to produce a slim, small, 9mm and added that it would be very popular. They replied that they wouldn't, as they would have to change their molds! Who is sorry now! The leader for so many years has now become the follower, trying to catch up! The Glock 43 is great, but a disgrace with it's 6 rounds compared to the Hellcats 11 or 13!

I shot about 200 rounds from this Hellcat straight from the box. Zero issues! It is easy to shoot, and very accurate. Sights are excellent, unlike GLOCK's that we have to swap out for some kind of metal ones immediately, as they WILL pop off your firearm, practicing one handed racks etc. Why do GLOCK even bother putting on such terrible sights on their wonderfully reliable pistols?

Anyway I expected the little Hellcat to try and jump from my hand. It didn't. Get a good grip, and you won't have to adjust it at all whilst shooting, even rapid fire.

I purchased the OSP (optics ready) as I have always believed that it is way better to be looking at the threat, rather than the front sight.

Thanks also to Budsgunshop, as I could not find this pistol anywhere else, and it was sent out to me pretty much immediately! Excellent service.