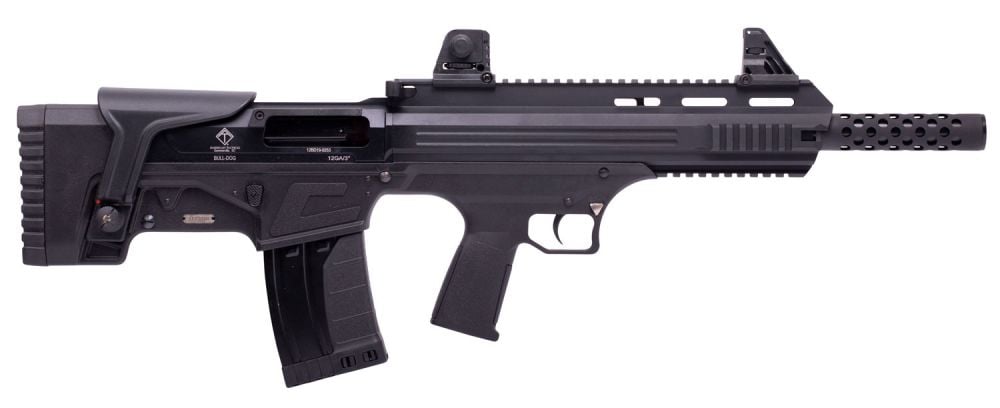 Reviewed By:

richard m

on 06/22/2021
Nice weapon for the money.

Reviewed By:

Charles J

on 03/31/2021
Great Bullpup for home defense get the 20 rd drum mag it cycles flawlessly

Reviewed By:

Stephen W

on 03/29/2021
My first look at this i was a bit unhappy with all the metal shavings from the machining and the plastic sights. I completely tore the gun down and cleaned it and blew all the shavings off. I had to file the plastic sights to get them to fit on the rail. After taking it to the range I was very happy with it! It ran everything i put in it flawlessly! Even the cheapest low brass shells i could find!

Reviewed By:

Adam G

on 11/22/2020
Beautiful firearm and practical in every way. The price was the original point that drew me to buying this specific mag-fed shotgun, though I had been looking at some other bullpup shotties too. The weight feels good, cycles cleanly, and is overall a very attractive firearm to look at. The bullpup style makes it very practical for home defense and clearing corners, so that's also nice. The only "complaint" that I'd have would have to be with the magazines and attaching them to the rail like a pistol grip (the bottom of the mags do slide onto picatinny rails). The mags do not come off the rail easy at all, so storing an extra mag on the bottom rail is extremely impractical unless it's empty and you just want the gun for aesthetic reasons. It looks cool but that's about it, takes a solid minute or so (or using a hammer) to bump the spare mag off when it's secured to the bottom rail. I'd recommend buying an actual pistol grip to use instead (mine's on the way) and simply store your spare mags on your kit. I also bought a red dot sight to replace the stock sights that it comes with, and also got a rail-mounted shell holder to add an extra 5 shells to what the gun can hold. Excellent gun, super cool to look at and handle, and amazing price overall. Would recommend, 10/10.