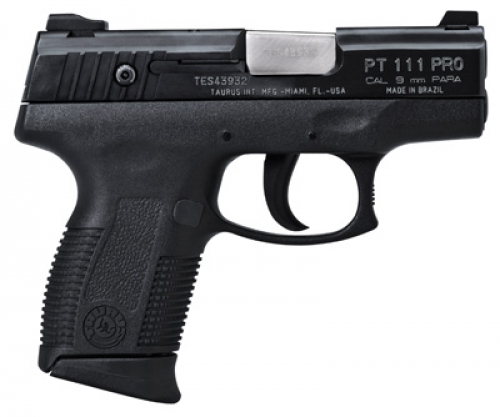 Reviewed By: on 02/22/2013
I ordered three of the PT111's and overall I am satisfied. One of them came with a ten round and a twelve round mag but was supposed to come with two twelve round mags. I called Taurus and they sent me another twelve round mag free of charge. Two of them had a few FTF but after running several more rounds through them they started working fine. One had FTF every other round or two. I think it will do better after some more break in. Nice quality weapons and for the money they are hard to beat.

Reviewed By: on 01/13/2013
I had a very bad experience with taurus and this weapon. To keep it short and sweet, I did all the cleaning of the weapon and took it to the range. Shot 4 different types of ammo and the gun would not cycle through any of it. The ammo was winchester and federal fmj and hollow point. After every round, i would either get a fail to feed or a fail to eject(stove pipe). After 40 rounds or so of this i had enough. The only way i could fire a round was by having to pull slide back and chamber a round each time. After calling taurus and getting the run around they finally would accept to take it back and look at it for repairs. The first customer support guy was rude and not very helpful at all. Kept trying to get me to believe that he was a certified arms instructor and that i was limp wristing the pistol and that becasue it was a compact it was more sensitive. Its funny to me how i have fired the exact same gun before, a s&w compact, a springfield compact, and others and have never ran into this problem of limp wristing. Not to include the fact my wife has fired the exact same guns and never had an issue. So eventually after talking to another rep, she finally would accept the fact their was a problem with the firearm and that me sending my two magazines in for new ones was not going to fix the issue. Worst customer service ive ever had and will be the last taurus i will buy regardless if they fix it or not.

Reviewed By: on 10/26/2012
I got the taurus pt111 about a month ago and have no complaints with it at all! I seriously love this gun, it goes every where with me. I was used to carrying larger frame autos in the past and in comparison concealbility is much easier. I really like the size and thin grip I almost forget its there. I haven't had any failures with it at all yet. Finish is decent and price is right! I was a little skeptical at first seeing how this was my first Taurus purchase and with all the bashing out there I was a little nervous but I took the plunge and happy I did. Only issue for me are the sights I am not a fan of the straight 8's but they work and are easily replaceable. This was my second purchase from buds great transaction as usual 5 stars!

Reviewed By: on 10/05/2012
Great Gun! I have absolutely no complaints! Those with larger handles may wish to purchase longer/larger clip/magazine ends. Bud's was great as always

Reviewed By: on 09/22/2012
Bought this gun for my wife, Has a geat balance and feel. Took it to the range and put a hundred. rounds through it, Not one issue. Shoot straight and acurate. I was very impressed. So impressed I bought a PT145 myself. Great service by Buds as usual.

Reviewed By: on 07/09/2012
Once again great service from buds quick and easy transaction. Picked up gun from FFL in great shape not greased down to bad had a chance to take the gun to the range and performed with out a FTF for the price of this gun really can't go wrong great pick up for the price.

Reviewed By: on 05/03/2012
After reading several scathing reviews of this gun, I was reluctant to buy it... tales of not making it through a single magazine before the gun had to be sent back for repair would be enough to make anyone think twice. However, having purchased it and put over 100 rounds (so far) through it without a single hitch, I feel quite comfortable recommending this pistol. It was my first DA/SA, and the trigger pull is longer than I'm used to, but it's long in a take-up-the-slack kind of way. I also read reviews denouncing the accuracy of the weapon; after keeping a 5 inch grouping at 20 yards, I think it's safe to say if you're having accuracy problems, you don't need a different gun; you need more range time. This pistol gets a bad rap mainly from first-time buyers who 1. DID NOT CLEAN THE WEAPON before firing it, 2. DON'T PRACTICE PROPER HANDGUN TECHNIQUE, and 3. Glock snobs who think it's silly to spend less than 500 on a firearm. All in all, for the money, for the size/weight, for what it's worth, I would buy this gun again in a heartbeat.

Reviewed By: on 03/18/2012
Great gun best bang for the money. This is my first handgun purchase and it was a great experiance. I got the gun from my local FFL within a week. I brought it home read the owners manual and then cleaned my gun as sugested. Took the gun out on sat the 17th of march 2012 and was using winchester 115 grain target ammo and put over 100 rounds through it with NO problems. An experianced shooting friend of mine was with me and he shot the gun said it was a great shot just a long trigger pull. I didn't notice the longer pull because it is my first handgun. All in all it conceals very nicely and is very light with a full clip. Great gun and would recomend to anyone looking for a starter pistol or conceal carry.

Reviewed By: on 12/15/2011
Great gun, hundreds of rounds with not a single malfunction, love it for my carry gun, best value , feels great and I have big hands, no issue with clip dropping as i have read others.

Reviewed By: on 12/09/2011
I have owned this gun for over two years now I have shoot over two thousand rounds and not one failure even with cheap Wolf ammo. I shoot an average of 50 round per week through it and I give it a good cleaning after shooting. It is easy to take apart and clean points well and it is very accurate at 15 to 20 yards. Also it is very easy to conceal great value.