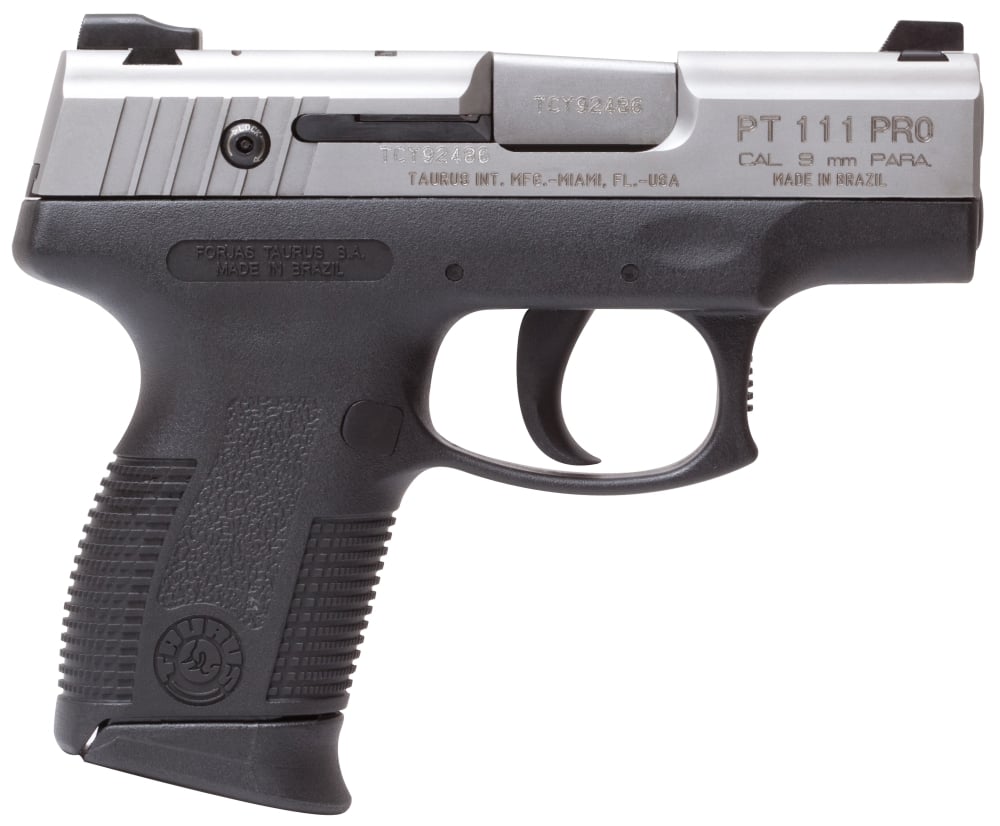 Reviewed By: on 01/06/2019
Great product, I love it. Buds shipped it quickly, no issues. I love this little dude. Works great, so much fun to shoot.

Reviewed By: on 12/08/2013
So far so good, thx again bud for letting enjoy my second amendment

Reviewed By: on 06/30/2012
First time ordering from Bud's and I will definitely keep them in mind for future purchases! I ordered my PT111 Pro from them and it did take 9 days to arrive, but I used the eCheck option and they had to add my FFL dealer to fax the license. I did think it was strange that it took 3 days to ship after my account was charged...but nonetheless, I am VERY happy with their service and communication of your order status! As for the gun itself...it is a GREAT shooting, RELIABLE pistol from my initial range sessions. I have run a couple hundred rounds through it (Winchester WB, Federal Champion and Remington UM JHP's) without a single hitch. The Heinie sights are a little different, but if you stack the dots and cover your target with the front sight, it will hit where you aim. I read that the sights were designed/set for 124 gr. ammo, but I had no issues hitting low with 115 gr, which is all I have used thus far. Most of my shooting was in self-defense ranges (15-25 feet) and the gun will put 12 shots in a 3" pattern at 25-30 feet. That group will probably shrink as I get used to the gun. Trigger pull is crisp for the price of the gun...the single action (double action on misfire) is slick, but I have not had to use the double action yet. It is easy to conceal this weapon in an IWB holster, and is very fun to shoot. The biggest thing I had problems finding before I purchased this gun was what all came with it, so here is a breakdown of what mine came with...PT111 Pro Stainless, TWO 12-round mags, 2 TSS safety keys, an allen wrench for the sights, poly bore brush, owners manual and a Taurus hard side case. As most have stated, the pistol comes PACKED with cosmoline grease...take the 20 minutes to thoroughly clean the grease out before you shoot the gun. I flushed the slide, barrel and springs with GunScrubber and a tooth brush and lightly oiled the slide and springs when done. This eliminates any problems with the first range session. I really like this pistol and would recommend it for concealed carry.

Reviewed By: on 03/25/2012
The pt111 millenium pro is the best bang for the buck. Just took my concealed carry class yesterday and it fired flawlessly. Grouped very well, no ftf or fte. The recoil on this gun is very manageable. I would recommend this gun to everyone. I don't believe you can get a better gun for the price.

Reviewed By: on 03/18/2012
I love this gun! Replaced a LC9 with this PT111 and although I am a HUGE Ruger fan, for me this is a far superior weapon. Recoil on the PT111 is very manageable for a conceal carry gun. Out of the box was able to put a group of 10 115 grain rounds is a 3 inch circle at 25 feet. Bud's service of course is always great, also appreciated that you get a free year of NRA membership with a Taurus purchase.

Reviewed By: on 01/15/2012
I got my PT111 from Buds,first time user with them. Shipped fast in under a week. Got the gun cleaned it, took it to the range and shoots great. Very happy with this gun.

Reviewed By: on 12/22/2011
Good looking gun, great fit in hand with grip extension on magazine, and easy enough to handle for me to teach firearm handling and combat accurate shooting to my GF with. No FT-anythings, shot exactly as it should. I would take away a star from Bud's for charging me extra for using my debit card, but it's not the gun's fault.

Reviewed By: on 12/15/2011
Bought 2 from buds, first one somebody wanted more than me. This is my CCW, dont leave home without it, about once a month I go by the range and put 50 or 100 rounds through it, and have yet to have a failure. I been wondering if the DA function works, but havent had the opportunity to try it yet. Would recommend this to anyone, next gun is going to be a 24/7 45acp

Reviewed By: on 12/11/2011
I have had this gun for about 9 months. I have put over a 1000 rounds through it without a singel misfire or jam. A great CPL pistol !!! Easy to clean and maintain. A awesom buy try one!

Reviewed By: on 06/07/2011
Very good dealing with Bud's it was shipped pretty fast. Shipped on Monday and arrived Friday at my FFL. Price hard to beat on almost all of Bud's guns. Will buy again. Gun is very well built even though Taurus has a bad reputation for quality that seems to have changed alot. Will purchase another Taurus hopefully soon. Gun has 250 rounds through it and only a few failure to fire and I think that was th ammo not the gun.