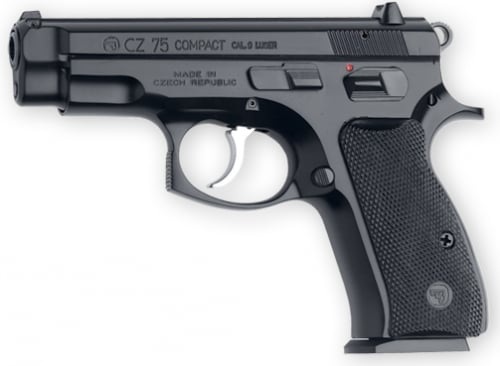 Reviewed By: on 01/17/2022
I have had a number of CZ 75 based firearms. For me, one of the most accurate "out of the box" pistols on the market, and this one is in that same vein. The pistol is heavy for a compact model, but I prefer that, as it moderates recoil a fair amount, and my Olde Phart hands appreciate that. Accuracy was superb...reliability thru a short (100 round) range trip was perfect. Trigger pull in double action mode was a but heavy, but single action was very good. I did dress up the gun with aftermarket grips, but of course that is just a "me" thing and not at all needed. Order and service from Bud's was maybe a few days longer, but I was told that would be the case, so the order process and delivery was typical of Bud's...i.e. excellent.

Reviewed By: on 01/04/2022
CZ pistols are awesome. Ordered from Bud's on Dec. 19, picked up from my FFL on Dec. 22. Couldn't ask for any better than that.

Reviewed By: on 12/03/2021
This gun will hang with any $2000 pistol

Reviewed By: on 07/12/2020
The CZ 75D Compact with Safety (not decocker) arrived in perfect condition, and proved itself accurate with 115 and 124 grain loads straight out of the box. No failure with either factory bullets or reloads. Very comfortable in the hand, ergonomic to the letter. Nice heavy feel, that makes recoil extremely manageable. Disassembly and cleaning are very easy. Would recommend that CZ ship with a stainless steel rather than a plastic guiderod - but it was easily replaced for ~$20. Accuracy is indeed outstanding. Offhand groups at 15 yards easily kept within 3 inches. With practice, you just know that will improve. At (measured) 80 yards, the gun's sights were basically right on, enabling hits 2 for 3 on targets 12" in diameter. Impressive! From the time I ordered to when my FFL received the weapon was 4 weeks. When I called or messaged, Bud's communication was great during a difficult and busy time for the gun industry. Considering the great price and the current panic, they did a great job.

Reviewed By: on 05/27/2020
Very nice pistol in hand comfortably, I like this compact, fully steel, and heavy gun.
Since most ranges are still closed I haven't got the chance to shoot with it.
One surprised thing is: the two magzines shipped are 15 rounds which makes me delighted.
Two minor things: The image shows the logo on slide is on the left, and trigger looks white;
the item received trigger is black, logo is on the right.
Overall I feel it's a very good handgun at this price.

Reviewed By: on 03/05/2020
What can you say. It's a CZ. Great fit and finish. Great shooter!

Reviewed By: on 02/05/2020
I purchased the CZ75 Compact to carry in the appendix position. I like the added safety of being able to have my thumb on the hammer when reholstering. It is a steel framed firearm, and being so has considerable heft when comparing to an aluminum framed firearm such as the P-01 or PCR. I personally don't mind this but some may. It is a very accurate pistol and extremely reliable. It is also very ergonomic, feeling natural in the hand. If you are in the market for a DA/SA carry gun and don't mind a little extra weight, this is a worthy contender.

Reviewed By: on 12/24/2019
I purchased the CZ Shadow 2 several months ago, and realized I wanted a Glock 19 size CZ too. I was undecided between the CZ75 Compact and CZ75 P-01. I bought both!

These are my thoughts on the CZ75 Compact after 750 rounds and a few range trips.

First, this pistol feels amazing in your hand. It has plastic grips, with a good palm swell to fill your hand. You can get up high on the frame, which is comfortable and aids in recoil recovery. Your strong hand thumb rides on the top of the grip, your support hand thump in the scallop on the frame. Locked and consistent.

Second this pistol is solid. I don%u2019t think it%u2019s heavy, but it is heavy enough to absorb recoil. This keeps the front sight visible through the shot, and it comes back quick. It will likely be heavy IWB all day, but OWB for competition it%u2019s great.

Third, the trigger is good but can be improved. The double action pull is long, and stock it%u2019s heavy but no worse than a revolver. The DA stacks (meaning it gets a little heavier) right at the end, which improves with use. Single action has some sponge and a little over travel. The sponge feeling is the sear sliding off the hammer hooks. Both are better than a stock glock, but you need to learn DA/SA difference, or always cock the first shot and shoot it like a 1911. Reset is positive, not too long. It definitely improves with use.

Forth, slide lockup is tight, no rattles, and stiff to rack. Finish externally is very good with no blemishes. Mine has very few tool marks and is well finished inside.

Fifth, and the first negative - the sights. Too little rear gap, and the dots are small and too close on the rear. Budget for them to be changed - P-01 sights do fit. They also weren%u2019t regulated well for me, being 3%u201D high and 1.5%u201D left at 15yds. I held a 1.5%u201D group at 15yds offhand (I%u2019m a former Olympic Pistol shooter) so it%u2019s plenty accurate.

The mags supplied were 15rd Mecgar with plastic bases not CZ. These are better than CZ which are 14rd and rubber bases.

The controls are ok. The slide release is smaller than the P-01 and you can%u2019t reach it unless you have a very long thumb. The mag release is round, very stiff and non-reversible. I can%u2019t reach it with my normal grip.

Overall I%u2019m very happy. 100% reliable, well made and I like it a lot more than my Glock 19s (I have 3).

Reviewed By: on 08/27/2019
Compact CZ75
My 3rd CZ. Similar in size to a P-01 but no accessory rail and the frame is steel. It is a heavy firearm and extremely well made. Shoots dead on out of the box and has yet to misfeed or misfire. I strongly recommend this firearm. Additionally, CZ Customer Service is second to none. If you are looking for a quality firearm at a fair price consider the CZ75, Compact CZ 75, P-01 or RAMI. I have them all and have been favorably impressed.

Reviewed By: on 08/10/2019
Happy with the product but received 15 1 capacity instead of 14 1..