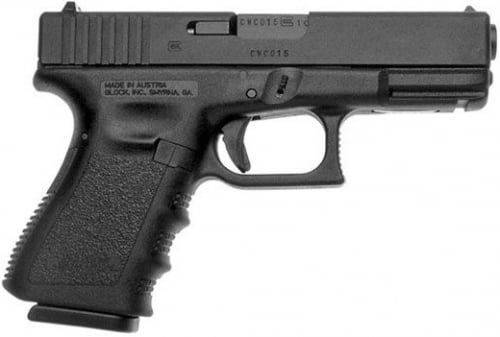 Reviewed By: on 12/21/2021
This is a good gun. It will be my carry pistol. I don't like anything much smaller. Bud's always has great service.

Reviewed By: on 11/27/2021
Solid weapon. Can never go wrong buying a glock and in great condition.

Reviewed By: on 10/21/2021
Gun works as expected, no issues, it's a Glock what can I say!!!

Reviewed By: on 10/19/2021
I had bought the gen5 and used to have the gen3 and always regretted selling it so when I seen this still for sale I had to get one. What can I say it%u2019s Glock and it works. Zero extractor issues and can%u2019t be happier with this gun.

Reviewed By: on 09/30/2021
My experience with Buds gun shop was very gratifying. The service and product delivered were great. Definitely will use them again for further purchases.

Reviewed By: on 08/24/2021
It's a glock, you get what you expect, simplicity and reliability with the knowledge that it will never let you down if needed.

Reviewed By: on 08/11/2021
Perfect Shoots well no problems

Reviewed By: on 06/30/2021
Glock is such a comfortable gun. Originally purchased a 43X thinking it's slightly more concealable and it is. My big hand is very pleased with the G 19 Gen 3. I shot about a hundred rounds and had pin point accuracy 30 yards and in. I love it and highly recommend it. 5 stars. No questions asked.

Reviewed By: on 06/09/2021
I am very satisfied with the service that Bud%u2019s has provided to me when purchasing my first firearm online. The shipping only took two(2) business to my local FFL shop to receive it. I couldn%u2019t find a Glock19 nowhere in the city of New Orleans so I decided to try Bud%u2019s and I must say, I%u2019m impressed with their speedy shipping. That%u2019s why I became a member and I%u2019m looking forward to my next purchase sooner than later. I have my eyes on a semi-automatic 12 gauge, preferably a Bullpup AR style.

Reviewed By: on 06/03/2021
Very nice weapon!,has the great Gen.3 trigger,everything 'crisp'.Thank you Buds,everything smooth. God bless,🇺🇸