Customer Reviews for Heckler & Koch H&K Mark 23 .45 ACP 5.87" 12+1 (2) Blued Blued Steel Slide Black Polymer Grip
---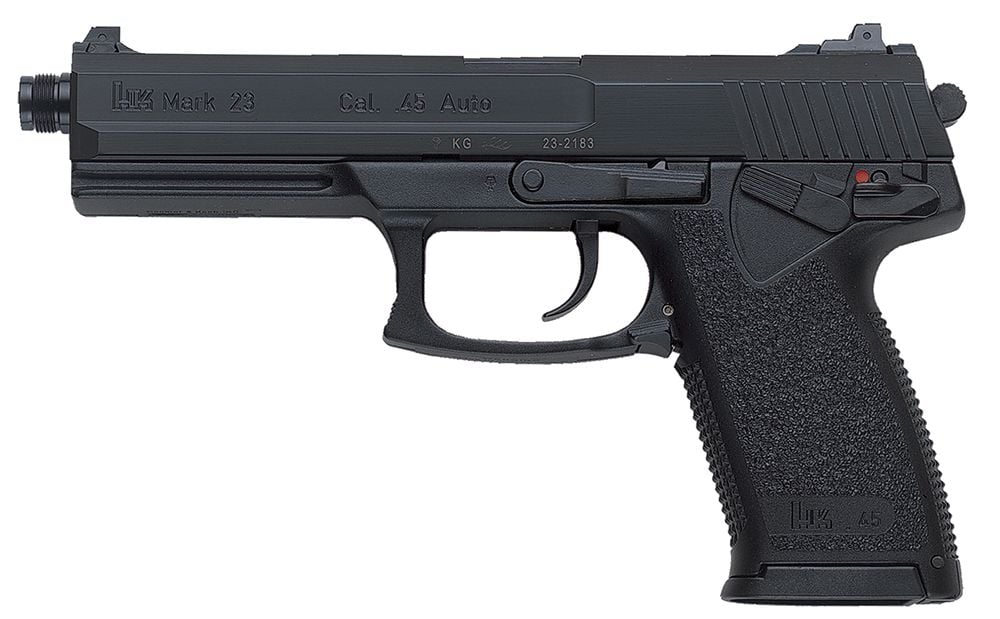 Buy Now
---
Great gun and no recoil. Really soft shooting and good ergonomics.

I have owned many different weapons in over 65 years of shooting and if I could keep only one of them to defend myself with under all conditions , it would be the H&K Mark 23 45 ACP Learn as much as you can about this incredible weapon designed for SOCOM and the harshest conditions on this planet.

Beast of a gun. Built like a tank.

This thing is an absolute BEAST! I bought the HK compensator for it, since I didn't feel like waiting until my 70's to get a suppressor. It was on my "watch" list, and when a few popped back into stock I grabbed one. It is a piece of history, and definitely an eye catcher. You're not carrying this thing unless you're Paul Bunyan, but if you need a portable Howitzer for self defense you've got other issues going on. Like the 24K Desert Eagle .50, this is something you buy really for no other reason than to say that you have one...doesn't hurt that it's one hell of an accurate gun and durable beyond belief either.

I have big hands so this seems normal and everything else seems small. Even with this Mark 23, I wish the grip was a little longer. Whatever youve read about the Mark 23 if its good then its probably true. If you need a pistol with four levers on one side, its the only game in town. If you need a club to beat your enemy with should you run out of ammo - look no further. Should you buy one? Absolutely. Is a USP Tactical a good substitute? I guess. What year was it built? You can tell by looking at the two letters to the left of the serial number. A=0 B=1 C=2 D=3 E=4 F=5 G=6 H=7 I=8 K=9. So BK = 2019. (J is skipped). To the left of those letters is the German Federal Eagle sitting on top of the letter N or the letters CIP (Permanent International Commission for Firearms Testing) in lieu of the Eagle. The N stands for Nitrocellulose - the main ingredient in smokeless powder that was used in testing. Just so everyone is clear they didnt test it with black powder. The stag antler is the Proof Mark from the Ulm Proof House indicating that the barrel has been fired with 2 rounds that were 25 percent higher pressure than the barrel is rated for And it didnt blow up. There are 5 other major German Proof Houses that have different marks. A horse is one, a bear, and other code of arms symbols that to us look like shields. This is old school European stuff that they are still doing. The DE is the two letter abbreviation for Germany. The Mark 23 has been on my bucket list for over 20 years - longer than any other firearm. Imagine what finally checking that off was like. The ceremony contained all the pomp and pageantry you'd expect for such an event and the after party is ongoing.

Fantastic weapon. You have to understand that this was one of the first handguns that was tested for SOCOM. Not only tested, it still is the most tested handgun on the planet. Yes, it is bulky. Yes, it is large. Yes, it could use an update, but this thing will shoot lights out with any ammo. So, if you have the coin, own something that can be passed to your kids as a collectors item back when people believed there could be an "offensive handgun." Cons- The Mark 23 was developed before there was a consensus on light rails. Unless you are willing to spend 2k on an Insight LAM that was designed for it, you will need an adapter. -Mags are pretty pricey, but watch Buds for sales. I picked up 2 for a decent price. -It is large. I think it feels larger than a Desert Eagle. That being said my wife, who is 5'1 can fire it without any problems. (She doesnt' feel comfortable firing the DE). Just get it. Shoot the piss out of it and put it in your safe.

I have a mixed history with HK and the USP-patterned pistol. The third pistol I ever owned was a USP Compact and, to this day, was the worst pistol I've owned. The trigger was terrible and the slide release would eat in to my hand. The Mark 23, though, has quite a reputation, as well as undeniable good looks. Eventually, I gave in and gave HK another shot. Wow. This Mark 23 lives up to the hype. It is soft-shooting, accurate and comfortable. I know see my old USP as a bad scaled-down imitation of this Mark 23. I would buy it again in a heartbeat.

Nothing more to say than what hasn't been said in the other reviews. The Mark 23 is wildly accurate, beyond controllable, and an absolute pleasure to shoot. My wife has smaller hands and has trouble shooting her 1911 but when she shot this monster she actually really enjoyed it. I don't regret this purchase one bit. If you are on the fence with this one, rip off the band-aid and buy it. You will not regret it.

As usual Bud's delivery was on-time and communication was very good. And what can I say about the H&K Mark 23 SOCOM that hasn't already been said - nothing. It is a great pistol.

I'm a big, meaty guy and I like big, meaty guns. I love the feel of this pistol. It just feels like it means business. The large size means low recoil. I found a shoulder holster for it and carry it concealed sometimes. I told you I'm a big guy. There's no point in me telling you this gun is good. It's great. I'm sure you've read all about it. If not, you should. Here's what I will tell you. When you hold it, you will know you're holding a piece of history. When you bring it out at the range, people who know guns will whisper. Then they'll come over, hoping to hold it or even shoot it. Your friends will tell you to bring it when you go shooting. They will bring .45 ammo, so they can shoot it. Yeah, it's vanity, but sometimes that's the best reason to own something special. My Mark 23 sleeps beside me on the nightstand. There is no other gun I trust more to defend my home. I know it's expensive. Hey, I had to talk myself into it. But this might be the first gun I've ever purchased not feeling like I was taking at least a small chance on getting something that just wasn't up to snuff. If you love military weapons, and you want a piece of engineering art, you want this gun. If you have the money, you really can't go wrong. Did I mention this gun makes me very happy?

As usual Buds delivers gun was phenomenal this would be Robocops carry gun it's a beast typical H&K quality...

As always Buds service is great! Wow! This gun is awesome! I never thought I'd get one but I found one at a good price and figured I'd go for it. Everything about this gun is ridiculous but it's awesome. Very accurate with a certain elegance that only HK can provide.

I purchased a HK MARK 23 from Buds in December 2016. Shipping was very fast! Before testing this firearm, I recommend cleaning and lubing it first. Compared to my other 3 HK .45 firearms, the MARK 23 is tighter and is a smoother operating pistol. So far, we've put a few hundred rounds through it. My adult Son would love this firearm in NYC but not allowed as of this date/time. His targets end up with a very large hole in it. His groupings are very tight. As for me, I'm older and doing great with this firearm. My groupings could be better if I adjust the sights but it's just too early. After I fire 500 to 1,000 rounds, I'll be at that point or the factory settings might be OK. I am just a little to the left and slightly down--trigger pulling issue--cockpit error sort of thing. But I feel it's a new pistol and I must get use to it.

I purchased a Mark 23 last year after extensive research and handling. While I'm content with paying for Heckler & Koch products, I still find it reasonable to shop around, especially when I know what I'm looking for. All things considered the Mark 23 is an absolute work of art, truly a great handgun (large). I enjoy shooting the Mark 23 so much that I decided to buy another as an investment piece. The handgun is more than 10.0 inches long, however it is not as heavy as you may think given the outstanding balance to the design and the use of polymers. Most handguns are excellent out to 25 meters, the Mark 23 will shoot 1-2 inch groups at 50 meters with very little effort beyond the basics. Design is hearty given the intended customer, it will outlive the owner, perhaps by a few generations. Built on P ammunition, meaning your regular .45 ACP will be even less than what was expected in terms of pressures (resulting wear). - The Mark 23 is not intended to be concealed in normal dress, it is a duty/operational handgun for a rig or open carry via holster. - Not a cheap firearm, you have to pay for the experience and opportunity to own one. Highly recommended for HK buyers, polymer handguns buyers looking for a .45 ACP, or those looking for a rock solid handgun for the most difficult conditions.

Great transaction with Bud's again. Awesome HK pistol with the reliability you would expect. Very accurate with all types of ammunition. My friends love when I bring this thing to the range. A tad expensive but I consider it money well spent.

Great pistol. People say this is a huge pistol but when they hold it they are surprised it isn't that big. When they shoot it, they go looking for one. This is the most accurate pistol I've ever shot, others say the same. It doesn't kick, my wife is expert and shoots 9mm and says this has less recoil. The Bud's price assures you it will retain it's value. It's well worth the money and you won't be upset. I'm around Navy Seals and Para Jumpers quite a bit and they tell me how great this pistol is, they all own one.

Another great deal from Buds. Dave n company continue to do right by the customer. Gurney is a great guy.

A tad expensive, but worth every penny. Now I know why they call this firearm the "Zombie Slayer"! Not because I let out a fart every time I shoot it, but because of its enormous power behind each shot. I would marry this firearm, if only it was legal to marry pistols in the state of Texas, but it is not, so I guess I will just stay with my wife.........for now.....this gun is a collector's gun, and soon to be a collector's dream!

$1,707 is a closeout price on an investment grade pistol. These are a beautifully made gun. That description may sound odd for a mostly plastic and stamped steel firearm, but it is beautifully crafted. It's big, accurate, and arguably impractical, but fun to shoot, ultra accurate and reliable. Simply put, if you have the means, it's a must have pistol, be it for use as a shooter or stash away and make a tidy profit from a rabid HK collector a few years down the road.

Really great gun, buds was solid as always with their quick delivery and it was in perfect shape as usual. Low recoil for a 45, and quite accurate if you can shoot. It's a good sized pistol for sure, but well balanced. 2 thumbs up!! I farted too!

Best shooting pistol ever made. It's noticably more accurate than other pistols. A true suppressor host, and literally indestructible! A must for any HK collector.

AWESOME-BIG-MONSTER-OF-A-GUN. Really hold one first before buying. I would have been better off to spend the cash on three Glocks and a few extra mags. This was to much stress for $1834. I'll re-gift this zombe-slayer+_+

$2k for a polymer pistol, was I crazy to buy it? No! This gun will put bullet on top of bullet (if you do your part). Everyone is quick to knock the size but at 6'6" 260 pounds this gun is perfect (for me). Recoil is unbelievably light for the .45 ACP round and crazy quiet suppressed. The Silencerco Osprey looks as if it were made for the gun. I like this gun so much that I actually bought a second one! HK's are better than $ in the bank. This is comming from a guy that emptied his 401k and pension to invest in "Black Gold" guns. For years the rumor has always been that HK was discontinuing the MK 23. I have a dealer friend that was at Shot Show 2011 and the HK rep stated, "We have about 40 left at the factory and that is going to be it, other than the ones already at the distributors and dealers". If you want one get it now!

Match grade out of the box accuracy, reliable as they come and a sweat looking sidearm. That being said you can match the accuracy by hot rodding alot of differrent 1911's and probably save yourself a few dollars. But I love mine and now that I have it I won't be parting with it! If you want attention at the range grab some gold sabers( 185 gr+p of course) and ring out your previous shots@ 15m to much delight 11/2" groups @ 25m .buds, great service as always. If you don't want to wait for a firearm then just go pay your local gunshop 2-300 extra. I'll spend my cash on rounds, paper and range time!

This has to be one of the finest weapons I've ever shot and I received it only 12 days after ordering and paying for it. I was concerned when I received a notice that there might be shipping delays (hoping to get it before Christmas!) but when I asked the folks at Bud what I should expect, they promised to deliver it per the terms I agreed to (3 to 7 business days) and they did! On the seventh business day it went out with no problem.