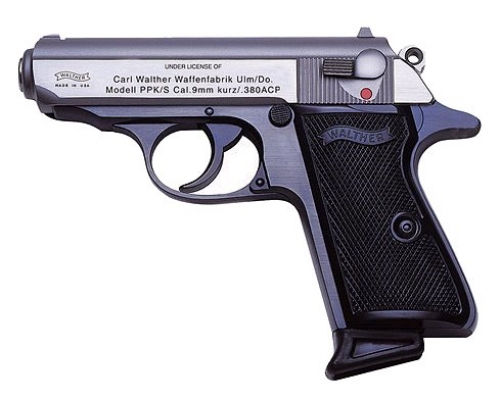 Reviewed By:

jeremy c

on 08/15/2011
Was a bit roughto field strip and reassemble when new, but still a good weapon. I have put about 500 rounds through it and it shoots well enough. Accuracy is not the best but it is acceptable. A bit heavy for the size. It does jam more than I would like. I believe this has to do more with the full magazines than the weapon itself though.

Reviewed By:

David R

on 04/20/2010
Purchased my Walther PPK/S from Bud's, service and delivery were excellent as usual. The pistol is another story. I've sent it back for Walther to fix the jamming problem that it has. I've only fired 20 rounds throught it and it jams all the time! Hopefully they will correct the problem. Dave....Texas

Reviewed By:

Pat U

on 12/11/2009
This gun was my first purchase from Bud's and I have to say, I was AMAZED how EFFICIENT Bud's is! I ordered this on Tuesday at 5pm and my FFL called Thursday morning (1 1/2 days later)! Can't get any better than that. If you're looking at a PPK, don't be mislead by some of the negative reviews. Mine was manufactured 11/29/09 and it has been PERFECT, no problems at all. Fit & finish is top notch, it has fed, fired, and ejected every round I've put through it. Just make sure you clean it before you shoot it for the first time, they come from the factory very dirty. I'll definitely be buying from Bud's again, and my confidence in Walther's has been renewed.

Reviewed By:

Garrett S

on 07/28/2009
I recently sent in a negative review on my PPK/S. I had given it one star. Well after having to send it back to Smith & Wesson two times, it shoots and feeds great. Garrett

Reviewed By:

Frank B

on 06/25/2006
I purchased a Walther PPK/S and the first time I took it to the range I had 3 shots in the "X" ring, unbelivebale! I was shooting at about 15 yards, standing with two hands. The next shots were not quite as good but all were within the 7 ring. This is a very nice pistol. I am amaised at how easy it is to take down, even easier than my P-38.

Reviewed By:

Matthew H

on 06/10/2006
I purchased a Walther PPK/S .380 ACP for my father's birthday last year. Him always a fan of James Bond, and his famous PPK, he was suprised at the accuracy, reliability, and power of the small handgun. Well worth every penny, plus honestly. If you want a good pistol for conceiled carry, this is it.