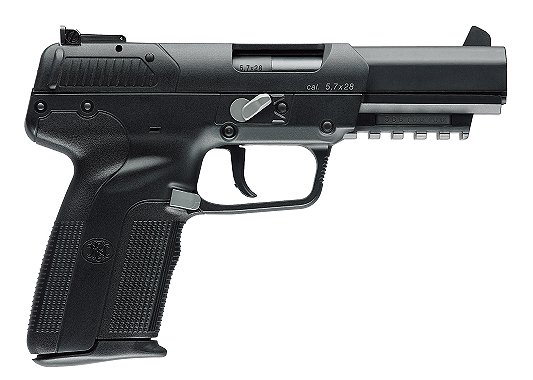 Reviewed By: on 04/06/2021
Wow, great shooting pistol..buy one

Reviewed By: on 05/28/2015
This is hands down, the most impressive firearm I have ever shot. It has very little recoil considering it shoots around 2000/fps out of a pistol. No other handgun compares. Stock up on ammo as it can be hard to find from time to time.

Reviewed By: on 05/05/2014
I don't know where to begin. I can't say enough about this pistol!! Extremely easy to handle! Recoil is next to nothing! Even though the gun is on the big side, my wife had no problem shooting it! It's an excellent pistol for conceal carry considering it's size! It's comfortable and lightweight!! The 20 round mags are pretty badass!! I love it!! As always Buds is AWSOME!!!

Reviewed By: on 03/07/2013
Excellent gun, a fun gun to shoot but ALL GUN PLACES will RIP you off on the ammo. They state how the box of ammo is $50 a box, but I buy them for $20-$25 when they are in stock. But other than that excellent firearm and I like the fact that it came with 3 mags for a total of 60 rounds if needed.

Reviewed By: on 07/19/2012
Hands down, the ultimate in a handgun. Accuracy, unbelievable in the range of no ther handgun, 100 yds plus. Magazine capacity stock, 20 rounds,unbelievable....... Down side is ammo. Hard to get as the 5.7x 28mm is only used in three guns. All made by FN. The PS 90, as well as the machine gun version, and the Five Seven.

Reviewed By: on 07/11/2012
Received my FN FiveseveN from Buds in less than a week after ordering it with a credit card. Even with a credit card fee added to the base price, it was still over $100 less than what my local gun shop was charging. Was a seamless transaction with a local FFL. Overall I am very pleased with the product as it arrived in very good condition. I have had a chance to shoot the 57 at a local gun range, and I knew I had to own one. It is a higher priced pistol and ammo is a little on the expensive side for a pistol, but the FN reputation and performance is worth paying a premium for. I can not wait to take this to the range.

Reviewed By: on 03/27/2012
Another great transaction. Over 10 purchases from buds with more to come. This is a must own for any gun addict.

Reviewed By: on 09/30/2011
This pistol is AMAZING. It is like a hybrid rifle/pistol. It is unlike anything I have ever shot! It is simply AMAZING. Is it pricey? Hell yeah BUT IMO you get the best handgun in the market. There is hardly any recoil. It shoots like a dream. Now my problem and that was with Bud's shipping. It took over TWO WEEKS for me to receive this pistol. When one pays over $1k for a firearm, one expects MUCH better shipping.

Reviewed By: on 08/06/2011
This is just one bad mother! The price is high yes...however you are getting one hell of a firearm that is accurate and reliable. It is one of many transactions I have had with Bud's over the years and I am always satisfied with there service and the shipping on this was insane...had it in two days. Incredible! The fit and feel of this gun is outstanding as well as the functionality. I am hitting amazing groups with it. All I can say is WOW! Every gun owner should fire one of these...if not own one. I am completely satisfied with my Five Seven. Thanks Bud's for yet another in a long line of transactions and expect more continued return business from me as well as my friends and family. By the way.. Bud's layaway is awesome! Keep up the great work fellas and keep the deals coming!

Reviewed By: on 06/20/2011
This is an incredible firearm. It is as potent as having a long gun but in a handgun. It looses a little velocity from the shortness of the hand gun barrel but it is definitely a fantastic firearm. 20 to 30 round mags makes it even sweeter! Though, i did not like the time it took for Bud's to ship it to me.