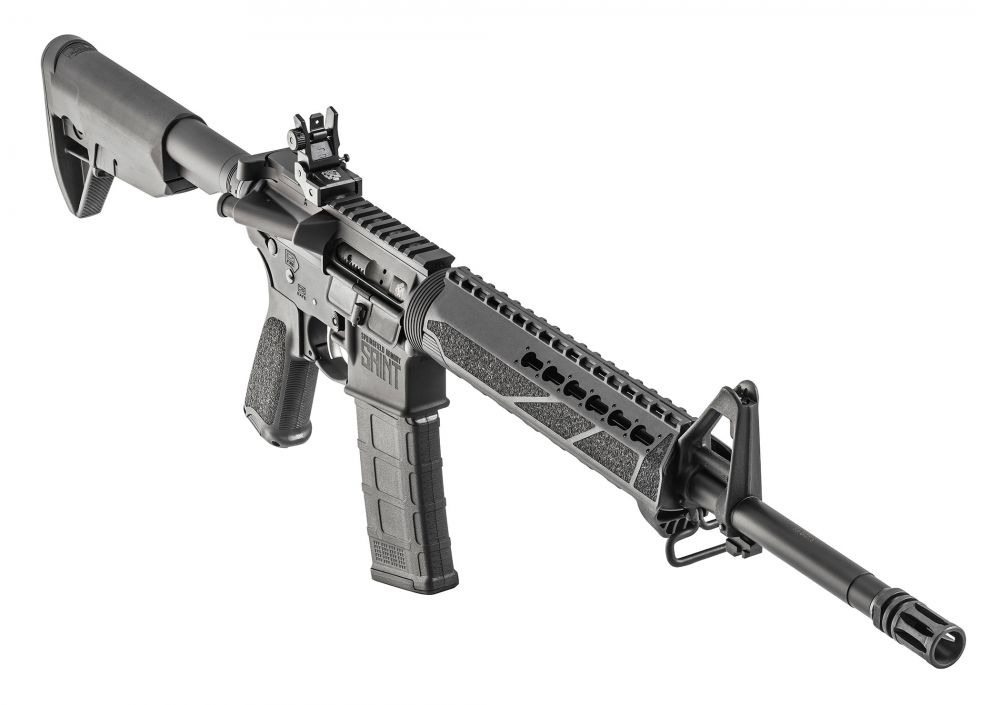 Reviewed By: on 07/28/2020
This is an extremely high quality AR-15 at a price point that makes this a top value.

I would expect to pay much more for a gun of this quality. Everything about this gun is top notch.

I would not hesitate to make this the only AR you own based on the quality to value ratio. It is a great product.

Reviewed By: on 01/29/2020
Great shooting rifle. Glad I bought it. Very accurate right out of the box. Easy shipping thanks to Buds. I will continue to purchase from Buds in the future.

Reviewed By: on 01/25/2020
This was my first ar15 type weapon, received the springfield carbine, checked it out , nothing was wrong with said gun. exactly as advertised. Went to the range had not shot rifle in over 30 yrs. Got couple decent groups app. 2 1/2 in. 50 yds. better than expected. Think the gun shoots better than me. Would recommend this gun.

Reviewed By: on 11/26/2019
Did not come with hard case as indicated- I was highly disappointed as I intented to travel and needed a lockable hard case. Also the safety flag was broken/bent downward and upon trying to pull it off, it broke off into the barrel which resulted in a hourlong effort to remove it without causing damage.

Reviewed By: on 11/06/2019
I can not say enough about this rifle. I received my order just under one week of purchase. I finally made it to the range & OHHHHH BOOOOYYY!
Right out of the box she performed FLAWLESSLY!! I fired approximately 150 rounds & not one single hiccup!!
Forgot to mention she was spot on just using the iron sights. I will be adding an optic in about a week. If you are on the bubble PLEASE do not miss out, I guarantee you won't be disappointed.
Once again BUD'S YOU ROCK!! Can't wait until my next purchase!

Reviewed By: on 10/13/2019
This was a hard choice for me since I was purchasing a AR. I had done my research and Springfield was a great choice since this Saint had a lot of features already built in without adding on later. This rifle is money! Feels great, shoots accurate right out of the box, comes with a magazine and a great case. There is no shortage of awesomeness here with Springfield Armory. This is the one to get without having to add alot of extras, but of course we all do anyway!

Reviewed By: on 10/01/2019
Had this baby out the range a few times already since I got it, what a machine! I couldn't be happier! Bud's was great, order took a little less than a week and went off without a hitch. I get just as many comments on the soft rifle case as I do the rifle, which is a lot lol. I looked at these a long time before I finally pulled the trigger, don't do what I did, if you're thinking about it, do it!

Reviewed By: on 08/12/2019
Got it this morning. I have to say that I am impressed. the attention to detail is very nice. the weight is amazing, the feel is perfect. LOVE it. I will probably buy a second one. Also shout out to Buds for taking care of a very long time, and prolific customer. Thank y'all I appreciate ya.

Reviewed By: on 06/30/2019
Good rifle. Slick frame. Very ricky ticky taffy. Did not expect 6 mags to come with it. Very good deal.

Reviewed By: on 06/04/2019
I could not pass up the opportunity of picking up this rifle because Bud's offered such a very good price point for it. I checked with my FFL dealer and was told that was an outstanding price offered. Again, doing some research (Hickock45 is an invaluable resource) on this rifle, there was not a single negative to be said about it. My only disappointment - that I quickly got over - was that it came in a soft case, not a hard one that was shown in the online reviews. But the surprise and bonus was that it shipped with 4, yes four magazines. Took it out to the range this past weekend and put 100 rounds through it. It took about 1 magazine to get used to the iron sights, but then was pinging the reactive targets more often than not on subsequent magazines. I was warned that all AR style rifles are LOUD, and the Saint does have a loud report, but I never felt beat up by the recoil, which the Saint handles very well. This is my second firearm purchase from Bud's and was another smooth transaction, with tracking provided in order to give my FFL a heads up on delivery. The Bravo Company furnishings make this a handsome looking rifle, not a dated AR. I've got a red dot sight that I'll attach to help with accuracy (mine, not the rifle's).