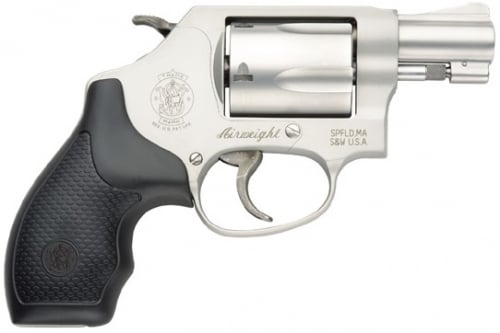 Reviewed By: on 10/05/2021
I love this 38. its light weight and is a blast to shoot. also a grate price for such a good gun

Reviewed By: on 08/03/2021
Quality revolver, shoots great, no problems.

Reviewed By: on 06/19/2021
Got this for the wife, barrel is canted about 5/1000 . But with a barrel this short, it doesn%u2019t worry me. And she doesn%u2019t know the difference. 5 star Buds. 3 star smith.

Reviewed By: on 05/12/2021
Bought this revolver for my wife. Smith and Wesson's quality is top notch. Their reputation for reliable firearms is unmatched. This is my third firearm from Buds and couldn't be happier with ease of purchase and speedy shipping to my FFL dealer. Buds by far is the best gun shop for internet sales. Wish I lived closer.

Reviewed By: on 04/30/2021
Bud's guns is the best place to buy. They are quick, efficient and very professional.

What can one say about a S&W light weight revolver. I carried a Chief Special .38
(blue steel) for many years as a narcotics officer, under cover agent and in the
Governors Security. This is lighter and I don't have to worry about amino acid rust.

Thanks Bud's Gun's, it has been a pleasure, again.

Reviewed By: on 03/24/2021
The 637 is the best 38 carry revolver period. Super light and accurate for the 7-20 yards its intended for.

Reviewed By: on 03/04/2021
Great little pocket revolver! Bud's system worked great as always!

Reviewed By: on 02/26/2021
Top quality carry gun. Highly recommended.

Reviewed By: on 01/23/2021
Great gift, airweight .38 gets the job done right!

Reviewed By: on 01/22/2021
Great customer service as always from Buds. The model 637 I received was the usual good S&W fit and finish. Also had the usual terrible trigger pull, I expected this and had a spring kit already waiting on the gun. Can't say enough good things about Buds.