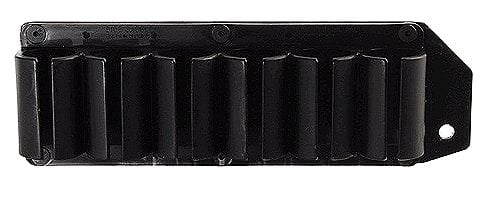 Reviewed By: on 06/05/2021
Put this on a Maverick 88 Cruiser. Easy to install and does just what I need it to. I was worried that a 6 shot sidesaddle would cause it to rub against my trigger finger since I am a lefty. Not an issue whatsoever, just in case you are a lefty wondering the same thing. I will definitely add another to any additional Mossberg shotguns I may buy in the future.

Reviewed By: on 04/21/2021
I bought this for my Mossberg 500. It fits perfect and looks great on my shotgun and very easy to mount. I would recommend it to anyone.

Reviewed By: on 09/03/2020
Bolts were jacked up but easy fix at the hardware store.

Reviewed By: on 06/25/2020
Love this side saddle. Really easy to install. Looks great. Holds shells tightly so they don't vibrate out when you fire the gun but not so tight you can't access them reasonably quickly. Highly recommend.

Reviewed By: on 03/31/2020
I' am very pleased with this product. Fit my 500 very nicely.

Reviewed By: on 11/26/2019
very easy to install, looks great on my mossberg 500, and holds the shells just tight enough that they won't fall out but are easy to remove for quick reloading. 10/10 recommend!

Reviewed By: on 03/08/2016
Love it! Easy and fun install, looks awesome as well

Reviewed By: on 12/02/2013
Easy to install, clear instructions, pretty much a no brainer buy. If you need a shell carrier, go for this ALL day.

Reviewed By: on 10/26/2013
Strong sturdy aluminum base. The 6 shot holder holds firm. There's not much more to say? Its good sturdy quality. 5 stars

Reviewed By: on 10/08/2012
I give this product a 5 star ranking because it was easy to attach and it does the job it is suppose to. Whenever I purchase a shotgun, I am going to put one of these saddles on it.