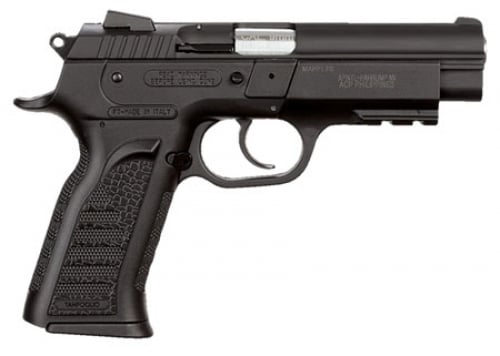 Reviewed By:

Kent N

on 01/13/2020
This is the first RIA product that disappointed me. The safety is impossible to engage with the strong hand thumb. i had to use the support hand thumb. I sent it back to RIA.

Their warranty service leaves something to be desired!

Reviewed By:

Randy R

on 08/16/2018
The Rock Island MAPP FS is licensed through Tanfoglio and is basically the same gun - this is a good thing. The MAPP gives the buyer everything one gets from any other brand, but at a significant discount. It has second-strike capability in that it is double-action/single action, with a thumb safety which means the pistol is meant to be carried chambered, on safe, but should the first hit not fire the cartridge, the shooter can stroke the trigger through for a second chance. The polymer frame keeps it under 30 ounces empty. Shooting is typical 9mm...it goes bang with each pull of the trigger, and the action cycles with the same boring regularity one is accustomed too from other, modern, polymer-frame 9mm pistols. So what's so great about THIS gun? For those who live in California, it's the fact that Armscor makes a .22 TCM9R conversion barrel and spring for it! Currently no .22 TCM or TCM9R pistols are legal for sale in California due to the microstamping requirement to make it on to the "Roster," so those wanting the TCM chambering have to find alternative solutions, and there are a few - this being one of them. The RIA MAPP FS costs less than Armscor's conversion unit for 1911 pattern, and Glock pistols! Even with the added cost of the .22 TCM9R barrel, total cost is just $550, or less than half that of the FN FiveseveN with it's "unicorn" ammunition which means high prices. You end up with two caliber choices in one gun, and can shoot cheap 9mm ammo, or slightly more expensive .22 TCM9R. For those inclined toward reloading, .22 TCM9R cases can be formed from .223 brass which ensures a life-time supply of ammunition, plus the TCM has a significant edge over the 5.7x28 in factory loads, and difference is only made greater with hand loads. Another plus to this pistol is it can use readily available CZ-75B magazines which can be found just about everywhere for reasonable cost. The Rock Island MAPP is as close to a "turn-key solution" to getting a .22 TCM9R as one can find, and is a definite buy!

Reviewed By:

John J

on 01/12/2015
This was the first gun I purchased through Buds and the transaction went very well. After receiving the gun it was cleaned properly but no other adjustments were made The gun feels natural in the hand, well balanced, and well designed. There were no rattles and the gun seemed to be solidly built. Here in Iowa it can get a little cold. The day I decided to shoot it was -13 degrees here. So the weapon was going to get a workout in the cold. Put 200 rounds of cheap Tulia ammo through it. Preformed excellent with no failures. Was very accurate out of the box. I was hitting clay pigeons sitting on the side of a hill at 150 feet with no adjustment. Now there was a little negative. I always get an extra magazine with all the weapons I buy. The Rock Island Armory website ( Advanced Tactical) where they sell parts and accessories didn't have the clip for the gun. But, being a CZ clone it wasn't hard to find a clip that works. Calls to the Rock Island Armory office went unanswered when I attempted, that I hate. But the performance of the gun makes up for that short coming. Over all pleasantly surprised.