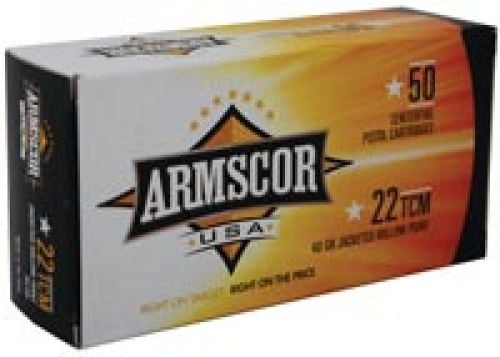 Reviewed By: on 09/19/2021
Product as described. Worked fine in my 22 tcm. Love the gun. Wish the product was more available everywhere. Would buy again.

Reviewed By: on 09/23/2020
Great ammo at a decent price

Reviewed By: on 09/15/2020
bud has great prices and great service

Reviewed By: on 09/12/2020
Good ammo at a fair price what's not to like

Reviewed By: on 05/16/2020
The .22TCM is an awesome cartridge, Not always available all over. However, I seem to find it at Buds Guns all the time. The versatility of shooting 9mm P as well from one gun is great. I am very impressed by both the Rock Island Pistol and the .22TCM round.

Reviewed By: on 04/30/2020
Cool Ammo fun Range time thank you

Reviewed By: on 06/24/2018
So far the ammo has been ok. I had some failure to fire and failure to extract not related to my gun. The ammo could be better. I wish some of the top notch ammo makers would start making this ammo. But being it is the only ammo for this caliber it is ok. I will start reloading this caliber.

Reviewed By: on 12/30/2017
Bud's has this ammo at the best prices. They are always great about getting it to me in a timely manner. You just can't find tthis ammo everywhere, but Bud's always comes through and its quality ammo. Have to give Bud's and Armscor both a thumbs up on this one..!!

Reviewed By: on 12/20/2017
Great product ! Bought 10 boxes, went out shot 5 boxes so far with absolutely no issues!

Reviewed By: on 12/18/2017
Great shipping and price. Will order again.