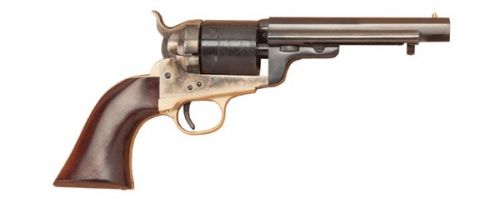 Reviewed By: on 10/27/2020
I just got this pistol the other day, I have not shot it yet. The fit and finish of this gun is astounding, this is a replica of the old cap and ball pistols of the mid 1800's that were converted over to use cartridges. I never knew that story until I bought this gun. It feels good in the hand and the detail that went into building this pistol and its history is amazing. This will be one of my prize possessions from now on.

Reviewed By: on 09/01/2020
really nice old west revolver shot great,

Reviewed By: on 06/06/2020
An excellent reproduction of an incredibly important historical revolver. The fit and finish are very well done, the revolver is solid and incredibly well balanced. Nothing rattly or cheap about it. It fits great in the hand, and goes naturally to the point of aim. It used to be that the only way to find these was to have one custom made - at a very high price - but Uberti has done a remarkable job making an affordable repro that does not feel affordable. The only inauthentic characteristic is the hammer safety. If you're not familiar with it, it is a small cam screw on the side of the hammer that turns a flange. In one position the flange allows the firing pin to travel fully into battery, firing the revolver. When turned the opposite direction, however, the flange will prevent the hammer from traveling completely and thus keeps the firing pin from striking the primer. The only reason it is there is because US law requires any import firearm to have a safety mechanism of some kind. Uberti has consistently struggled with having to meet this requirement while still making reproductions of guns that generally had no safeties while maintaining authenticity. FYI, this hammer flange is a point of contention with most forum boomers who will complain about just about anything. However, I have yet to have any issues with the hammer flange whatsoever, but in any event it is an easy fix. Just tighten the screw with some loctite. This is now my favorite revolver.

Reviewed By: on 01/29/2020
This Richards Mason 39sp conversion is a masterpiece in my opinion. Beautiful craftmanship. Love the case hardened receiver, walnut grips. I've shot over 500 rounds using various loads and had zero issues. Takedown is a breeze and it shoots straight out of the box.

Reviewed By: on 08/07/2017
Well made revolver and fun to envision yourself as the avenging pistolero righting wrongs and saving the day. Fit and finish is excellent. Just a nice piece of historic reproduction.

Reviewed By: on 02/25/2017
ciarron needs better quality control had some issues with gun like hammer not falling free frame scraping cylinder after fixing that gun shoots find i do like it

Reviewed By: on 10/03/2014
I just picked up my pistol from my fl dealer, Where do I start buds has always been a little slow on shipping ,but Im a very impatient person. When it came in today , what can i say IT IS BE-UTIFUL Wood to metal fit is good casr hardening perfect and the brass is excellent. A BEAUTFUL handgun especially if you like cowboy guns.Took it home and fired 5 rounds through it at 30 feet-not perfect but i have to get used to the sights. You have to kind of play with it to egect the rounds from the cylinder with the rod ,but thats ok. It fires great and the looks take up for the unloading issue. This has been my best purchase from BUDS so far ,but it wont be my last..... Great job Buds this gun is perfect. p.s it was so pretty my ffl dealers assistant didn't want to give it up.. LOL