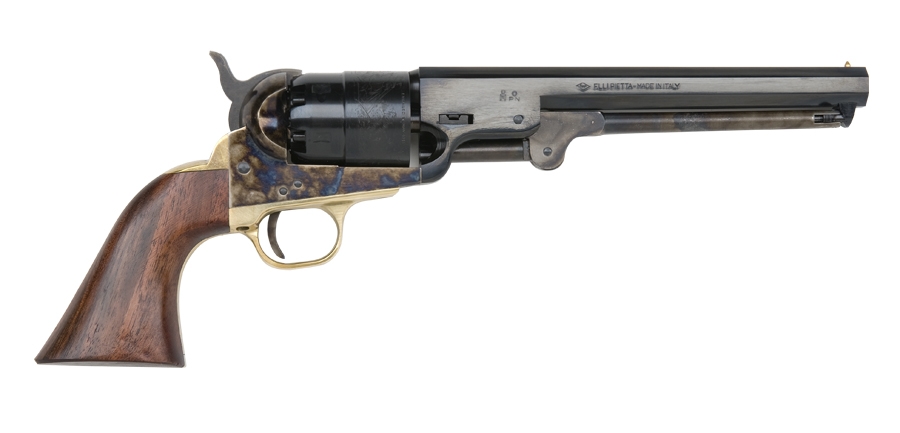 Reviewed By: on 11/03/2021
I found this revolver to be of very high quality. The fit and finish are as good as guns costing much more. Ease of loading, and accuracy, are both excellent.
Five stars for this one!

Reviewed By: on 08/20/2021
An unexpected pleasure ordering from Bud's. My order arrived at my door three days later, in a well packed box. I highly recommend Bud's.

Reviewed By: on 07/10/2021
as described, well built, nice finish, just as it looks in photo. havent had a chance to shoot yet.

Reviewed By: on 01/01/2021
Five stars for the value. Functions perfectly. This is my first black powder gun so I cannot compare this to the original or to other brands. I do however shoot a lot of pistol and this one works well and has much smoother action than I was anticipating. Shoots high and right using a light powder load; I understand that%u2019s typical. About 10 inches high at 25y so not too bad. Gun looks beautiful with the case hardening finish and brass grip and trigger guard. Comes with a lot of oil from factory that needs to be wiped off before using. Barrel wedge comes out and goes in with only finger pressure, and locks tightly without the need for a mallet. Nipple holes I guess are a little too large because the No10 caps get mangled really bad, so I am removing them as I fire them to avoid lockups

Reviewed By: on 06/02/2020
Perfect transaction from Buds Guns. The Traditions/ Pietta Colt is perfect. Thank you.

Reviewed By: on 07/14/2019
This is the biggest piece of garbage I've ever bought. The overall fit and finish is terrible (most notably the visible pitting in the brass from the casting), but the worst part is how the whole revolver is SLAPPED together. Some screws were put in so loose they're backing themselves out. Some were so tight, you end up stripping them when you try to disassemble the gun to clean it (because it ships covered in oil and blackpowder residue that they left on it when they tested it). And the wedge is forced in so tight that it's impossible to remove without marring the finish. This is my first Pietta made firearm, and it will also be my last.

Reviewed By: on 06/11/2019
Traditions 1851 navy 44 cal is a nice shooting Black Powder Revolver good Quality gun for the money.

Reviewed By: on 04/03/2019
As usual, fast shipping! Firearm locks up tight and is my first ball and cap revolver. Looks great and will be fun to shoot.

Reviewed By: on 08/19/2018
I absobtly recommend this revolver. It's solidly built and surprisingly accurate. Buds shipped it too me more quickly than any other seller could and at a lower price.

Reviewed By: on 08/17/2018
Fit and finish are BEAUTIFUL! Buds was wonderful on the shipping. Look forward to buying more