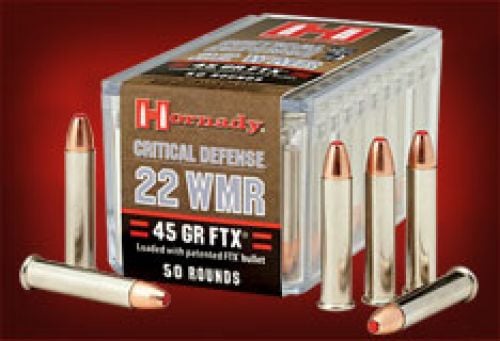 Reviewed By: on 02/25/2021
Great performance out of S&W 351PD, KelTec PMR30 and produced 1" 5 shot groups out of a CZ 455 Heavy Barrel @ 100yds.

Reviewed By: on 06/25/2020
These are the finest .22 Mag rounds made !!! Love shooting these through my Ruger American .22 Mag rifle.




Reviewed By: on 07/26/2018
Excellent ammo that functions VERY well in my Kel-Tec PMR-30. Accurate, freeds reliably, and somewhat reduced flash - what's not to like. It IS somewhat more expensive than comparable standard 22 WMR loads, but worth it.

Reviewed By: on 07/19/2017
I purchased this ammo for use in a Kel-tech PMR-30. While this is the ammo that I would recommend for defense rounds in any .22 WMR weapon, it is the only round that I would trust for use in the PMR-30. Not only is it one of the few rounds that yield smooth operation of this particular pistol but the projectile itself out performs any other .22WMR bullet as a defense round.

Reviewed By: on 06/14/2017
This ammo works perfectly in both my PMR 30 and CMR 30. Good, reliable 22 wmr ammo that is both reasonably priced and weighs 40 grains or more is near impossible to find locally. Bud's saves me a few dollars and I get the ammo I want most for accuracy and reliabilty in my Kel Tecs. I have fired around 300 or so of these in the CMR and about 500- 600 in the PMR, zero ftf or fte with these rounds. Shipping was right in line with what I have come to expect from Bud's. The ammo was packaged securely and all boxes were in pristine condition inside of a larger box filled with paper/packing materials etc. Five of five stars and will be back for more real soon.

Reviewed By: on 06/08/2017
This is a great product for most concealed carry short barrel pistols or revolvers. Its even a greater value from Buds because they have it in stock when you can not find it in stores or at another online sellers. Once again "Buds has it"

Reviewed By: on 09/28/2016
A great defensive round for its caliber class. I like that these are a little heavier. My wife runs these in her CCW LCR and has not had any issues. Typically hard to find but Buds had them and a very fair price as well!!

Reviewed By: on 07/27/2016
What a deal! Buds has this top quality Critical Defense ammo priced about a dollar a box less than other places sell the cheap stuff.