Customer Reviews for Plano Special Edition Black Pistol Case
---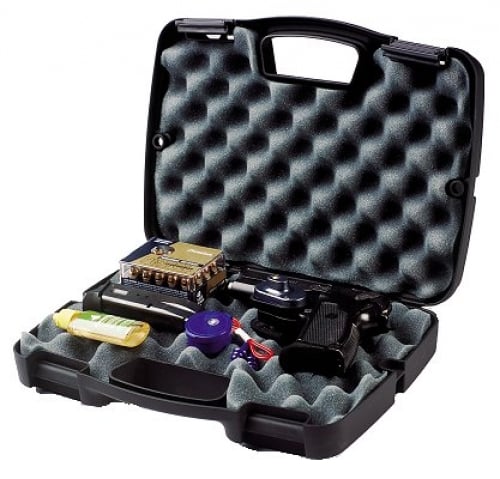 Buy Now
---
Plano is the best company for cheap cases. you dont have to have the best pelican case for every gun. this does what it is supposed to do and was worth the price.

Great protection for your fire arm great price, fast ship

great case get one if your looking ant my review

I have always been satisfied with Buds and their products purchased. Shipping is always fast and they have excellent customer service. This pistol case satisfies my needs.

Exactly what I needed
Sturdy and secure

good case i have 2 of these thanks buds prices is wright

nice box, well made and good latches. lots of room for extra mags, cleaning rod and ammo.

Product in new condition and performed as it should, no problems. Recommended

The case arrived very promptly and at a huge savings from the ones I saw at retail stores and gun shops. Works perfect for my full sized pistol and 2 magazines. I would highly recommend this product to anyone looking for a clean, sturdy case.

Buds is definitely my go to place for accessories and any other firearm needs. The prices can't be beat the selection is amazing, plus the quickness in which you receive your stuff is well better than can be expected. The pistol case was exactly as advertised and fits my pistol and accessories perfectly. Yet another homerun Buds, you've got a loyal customer in me from now on

Great case at great price !

This is a nice hard shell pistol case. It is lockable, well padded and large enough to hold most standard pistols. It is well made and worth the price. I don't know of another place where you can find a nice case at a better price. Shipping was reasonable and quick.

I purchased a new pistol and needed a case. This met the need I had.

For the price you can't beat these.

The case is perfect for storing your pistol and has room for ammo and other things

This case is very secure and the foam is firm. It holds my colt 1873 single action army very well.

Good value for the price. Strickly a one gun case.

I received the cases and put two of my guns and magazines in them. I never had a case for them and they are very handy. Well worth the price.

Wonderful handgun. Great service once again. Thanks.

Product is made VERY CHEAP, but hey, you get what you pay for ! I will make do with this case, but I'm just wondering how long it will last. One of the snaps came off already and this is only day one. Bud's shipped it quickly and professionally and I have absolutely no complaints with the shipping/packaging of this product, ONLY that it is generic and flimsy when closing the case, but I guess it was worth $7.93.

Works as advertised. I'm using it for my Taurus PT99 with 2 magazines.