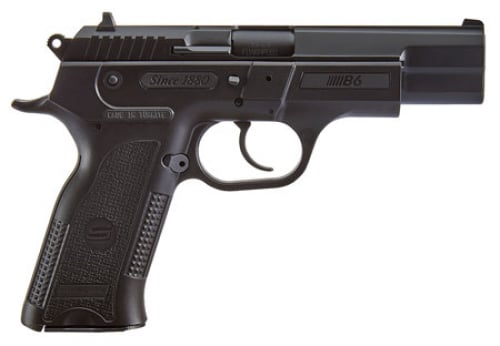 Reviewed By: on 10/06/2021
As usual, Bud's service was exemplary! The firearm is interesting...a CZ75 "type", but polymer frame. It is a fantastic firearm. I have several CZ's, and often say that they are the most accurate "out of the box" guns that I own. This is no exception. Very nice SA trigger, very accurate. The DA trigger is a bit heavy, but in real world shooting, that likely is not a negative factor. The pistol seems well made and ..assuming you see beauty in a polymer framed gun...it is quite beautiful. I thought it seemed a tad top heavy, and that it could affect the shootability, but that was a non-factor. If you are on a budget, or even if not, you cannot go wrong with this gun.

Reviewed By: on 08/07/2021
Fantastic pistol. Well built and very accurate out of the box. No problems through first 100 rounds.

Reviewed By: on 05/04/2021
This pistol is a great shooter especially for the price. It is hard to find a better pistol with this feel at any reasonable price.

Reviewed By: on 08/29/2020
Bought it as a back up budget 9mm, but was very impressed with the whole package that it came with!
A hardcase, 2 clips that hold 17rounds, and a lock...I've put around 300 rounds in her, and it hasn't had any problem whatsoever
For under $300 its hard to beat.

Reviewed By: on 06/12/2020
First off, its smaller and lighter than I thought it would be. Its front heavy, but that's to be expected from a full size steel slide and a polymer frame.



It came with 2 magazines labeled 15 on the side, they hold 16 tight with no more room, so I'll probably just run them with 15. Disappointed they arent 17 rounds as described but they are technically 16 1 if you have an uplula or Herculean thumbs.. Doesn't bother me because I'm not a Gun Karen or a Fudd. For the price it'll work itself out.



It's an SA/DA so you already know the deal, this ain't no glock trigger, once that hammer is cocked that trigger is LIGHT. Like 3 lbs minimum.



All around I like it.

Reviewed By: on 12/17/2019
Inexpensive high quality gun , it doesn't have the Glock Sig or s&w name but it works as good as those great gun for less

Reviewed By: on 12/07/2019
Ok this is not a Sig or Glock . It isn't supposed to be. This weapon is well made . The fit and finish is good and it is reliable. The only complaint I have is the trigger is curved too much . It is hard to get a good comfortable set on it. For a sub 300$ pistol you cant go wrong. Completely satisfied.

Reviewed By: on 07/16/2019
I have taken this gun to the range and shot 100 rounds of Wolf through it with not one problem. Has very visible 3 white dot sights and the bullet goes where you aim. IMHO if you purchase this pistol you will be very pleased with it. The single action is also amazing. It is all good.

Reviewed By: on 05/18/2019
You cannot get a better gun for the price. It shoots everything.

Reviewed By: on 05/05/2019
This is a very nice gun for the price ,feels great in your hand. Once you take it out of the case you will see and feel the quality SAR makes. This is my first SAR ,and I am very pleased.Buds Guns never lets you down either. gun came quick with no issues..buy yhe extra warranty from buds guns, , small price to pay for piece of mind .