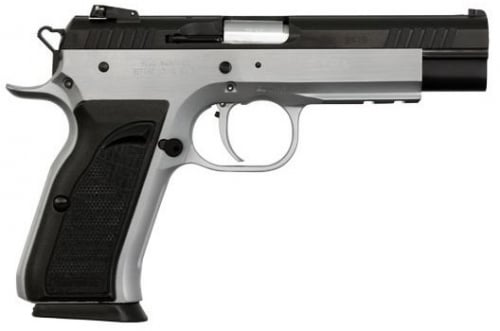 Reviewed By:

Andrew S

on 04/19/2021
Typical EAA high quality and typical high quality experience with Bud's.

Reviewed By:

Christopher M

on 02/05/2021
i recently bought this firearm and i have been wanting one for about 6 years now and i could not be more happy with any firearm than this one . It cost more ,do to all the stuff thats been going this year , 3 years ago I could have gotten it for almost half of what i paid for it this year but I think its still worth it .Its a great firearm ,if you buy one i dont think you'll disapointed

Reviewed By:

THOMAS F

on 02/04/2021
I have replaced the guide rod with a Henning rod and buffer. I rounded the front of the rod for easier insertion. It works fine with the stock recoil spring and locks back ok. I'm waiting on a Wolff spring pack to install an 18 or 20 lb spring.

So far so good with about 50 rounds through it.

Reviewed By:

David M

on 02/02/2021
I've had my eye on this gun for a long time. I finally pulled the trigger on it. Buds was a pleasure to deal with as usual. I've only fired about 40 rounds through it given the current ammo situation. It's a very accurate pistol with that single action trigger that I like. If you order this, be sure to order extra mags as it only comes with one. I'm very impressed with this pistol so far.

Reviewed By:

JOSEPH G

on 10/02/2019
smooth shooting 10mm I love everything about this product.

Reviewed By:

John S

on 05/07/2018
An incredible gun. I was hesitant of the quality because of the price. I liked it so much, I bought another one in 40 cal. It has an amazing fit and finish. Great trigger. The packaging is superior to high end guns. It shoots like a dream. Very little recoil, accurate, and zero fail to feeds. I had so much fun shooting it, I went home and ordered another 500 rounds of 10mm. Put me down as a Tanfoglio fan. If you are on the fence, pull the trigger. You won't be disappointed.

Reviewed By:

Ralph L

on 01/29/2017
First firearm purchase with Buds gun shop and it was great. I have two other 10mm handguns and this EAA is the nicest one by far. The craftsmanship of this peace is a 10. Fires accurate with no issues. Will definitely buy my next EAA from Buds

Reviewed By:

Timothy K

on 08/10/2016
10mm At It's Best! Bud's Shipping? Awesome As Usual, When I received this gem I was blown away at the quality and craftsmanship that went into this firearm, smooth trigger and accurate right out of the box, one thing this pistol lacks in is the sights, black on black?? I painted the front white and vastly improves sight picture, Tanfoglio needs to step up the game in the sight dept, I purchased some extra goodies for it, a Henning cone fit guide rod and Wolff spring calibration pack, went with a 20lb. recoil spring and 18 lb. hammer spring and I have to say this thing is well tuned for full power Underwood 155 grain 1500 fps loads, the weight of it makes handling recoil a breeze but still has a good kick, going to search for some better sights, they do have after market ones but nothing to write home about.

Reviewed By:

Gabriel B

on 01/17/2015
I cannot put into words just how slick this gun is; the fit and finish is absolutely stunning, the trigger is butter smooth and light enough for fast work, but not so light as to take decision away from the shooter (read: dangerous). An extremely beautiful handgun, and built to run TRUE 10mm out of the box, not that watered down Remington and PPU plinker stuff, which is actually loaded cooler than standard .40 SW. Even so, while it can run the hot stuff no problem, if you want to go SUPER hot and drop those Buffalo Bore hard cast bear loads in there or from other comparable brands I would recommend getting a set of heavy-10mm Wolff springs to drop in. Gun will still function fine without them; but it will a little smoother shooting is all. Service from Buds was impressive for a first time buyer like me: There was a little bit of a wait while the order processed but nothing to get snarly about; business is business. Once the gun did ship though, I had it three days later via UPS air. A great experience all around.

Reviewed By:

james k

on 08/17/2014
The EAA Witness Elite Match 10MM! Wow. WHAT A GUN!! Incredibly smooth slide, all the way up and back. Tight fit, exactly zero play. I took the slide off for a quick wipe down before the range trip, and the gun is well finished inside and out. No burrs, unsightly machining, or other shortcuts visible. Excellent overall feel and quality. I have to make sure you all know... this gun is under $600 BRAND NEW!! I've not felt another sub $1k gun this nice. Ok, she's pretty, but how does she shoot?! FANTASTICALLY is how it shoots!! This gun is no lightweight, and it's a PERFECT match for the 10 MM round! I couldn't believe how easy this gun was to handle. Seriously, I am still in awe of it. It shoots right to sights and has a really nice, crisp trigger. This gun shooting the 10MM (shot 50 Remington 180gr fmj, and 30 Freedom Munitions 180gr fmjs) feels better to me than full size poly guns shooting 40. It's much closer to a nice 1911 shooting 45s. Now, I said feels BETTER than a poly 40... not necessarily easier... the recoil I believe is on par or maybe a touch more, but it is much smoother, and the gun comes right back down for the next shot. I had zero hiccups with the gun. It has a strong, well-tuned extractor! Cases made a nice high and wide arc, flying about 12-15' between the 3 o'clock and 4 o'clock positions, getting 9-10' of air in flight. It was kinda' fun to watch! My Wolff extra power calibration pack of recoil and hammer springs came in today while I was at the range. I'm guessing the Remmy and Freedom Munitions ammo I shot was not necessarily 100% full power ammo. I'll either make some of my own, or Underwood will hurry up and stock some again, and then we'll see how hot the loads get. As for now, though, I think the recoil spring that came in the gun is just fine. Everything worked smoothly and I didn't feel any frame battering or anything harsh happening. The only issue with the Witness centered around the magazines. When loaded with 12 or 13 rounds two of the mags would not go all the way into the gun. I played around with them for a bit and found that if I just put in 10 rounds, they would work fine and drop free. Any more than that, though, and the internal stress must flex the mag walls just enough to cause problems. I have a few ideas as to what's going on and how to fix it, but I won't bother typing all of that out until I've played around with them some more. Verdict: 9.9/10 stars. Phenomenal gun, regardless of the price. When the price is factored in, it almost becomes ridiculous to think that another gun could possibly justify costing 3 times as much as this does, as it just seems it's impossible to be 3 times better. Tactile sensation, build quality, and function are all excellent. The mag issue is keeping me from rating this gun a perfect 10, and even that's hard for me to do. I love it THAT much!