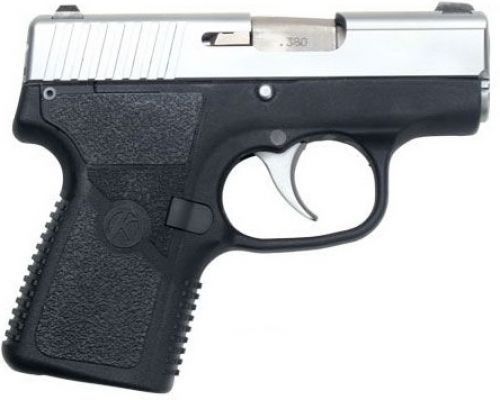 Reviewed By: on 03/19/2021
Never buy this gun. Its pretty, light and accurate but prone to light fires and the slide is very very hard to pull back. This slide needs to be that way because Kahr has this new mechanism no other pistol has for recoil and cocking the gun. If you put one drop of oil in the underside of the slide where the trigger/safety is the gun wont fire till the oil leaks out. Even with breakfree CLP. There is plastic edge flash for the polymer bottom everywhere and they interfere with the mechanisms. Again Never buy. Zero Stars.

Reviewed By: on 10/27/2020
I have had this pistol for several years now and carry it in a front pocket holster. The pistol has less recoil than my 380 sig. It has been reliable so far and I have shot approx. 500 rounds. I let a lady friend try the pistol but she was not able to work the slide. For a man, working the slide is not that hard but it has a double spring system which makes it harder than say a Glock or Gov 45. If a woman is thinking about this pistol I suggest you try one at the gun shop before you order one. The pistol is easy to shoot accurately even though it has such a short sight radius. It is an ideal pistol for front pocket carry and has a very smooth double action pull. My wife use to shoot a sig p230 but it now hurts here wrist but this pistol does not and has less snap in the recoil.

Reviewed By: on 03/17/2020
Best conceal pistol.
Very very accurate even out to extended distance due to the exclusive rifiling

Reviewed By: on 09/19/2019
Kahr P380-
Satisfied with the service level from Buds and the product. The gun delivered to the FFL about 1 week after order. Tracking and status updates were acceptable. My FFL was already in Buds system which is nice because that process can be painful if it's not already setup and it seems like they do a good job of having FFL's already available in their database...and I live in a small town! Product delivered new and in expected condition.

This is my first .380 I wanted a good backup carry gun. Price was competitive, I believe that's because it doesn't come with the night sights for the model I purchased. The gun shot very well with Remington ammo, no issues . It did not like Monarch ammo 4FTE's out of 50 rd. It also did well with Sig and Hornady self defense ammo, no failures with either of those. Very accurate, I was happy and impressed with how fun it was to shoot a small gun tight groups at 10yd on a 8" target. Again the gun is small, so there's not a lot of space to get a good purchase on the slide and when I squeeze the trigger all the way my index finger grazes the bottom of my thumb/palm but I think that's part of getting used to an ultra carry which large hands.

I would recommend this gun to someone looking for a .380 in this category. I would also recommend purchasing from Buds, they're reliable and have good pricing. This was my first purchase from Buds and online for that matter and it was a good experience so they've earned a retiring customer.

Reviewed By: on 08/28/2019
I have read countless reviews on how finicky the Kahr P380 is with ammo and the suggested 200 round break-in period. It's 2019. Perhaps there were issues with earlier produced guns (Pre-2015), but my experience has been stellar. I took 6 types of ammo to the range to break it in with 300 rounds and frankly, expected the worse. I am happy to report that it went smoothly w/ all! Just one hiccup. When loading the Sig JHP, 2 bullets got stuck upon loading. Wiggles the gun and it was taken care of. I threw everything at it. JHP. JHP +P. But the best rounds for sure was Buffalo Bore. The absolute best. Beyond ridiculous. Fastest bullet for a 380 made. Period. Flawless. My personal defense ammo from here on in. The best part of the P380, was the recoil was less than any other 380 i've Fired. Yes, including the Sig 238. At the price Bud's is selling it at the present time is a no-brainer. In closing, the best 380 on the market. Bar none.

Reviewed By: on 05/23/2019
This gun is absolutely stunning!

The trigger is very smooth and wide so you know you have a position connection to it upon placement of your finger. The size is perfect for conceal carry. The slide has a strong recoil spring so it is definitely not easy but that's alright.

The P380 we ordered came with a great hard case that it came in, as well as THREE total magazines. BudsGunShop informed me prior to ordering it that this firearm came with ONE, but ours came complete with THREE. Three is excellent as it helps save time at the range.

Overall I'd HIGHLY reccommend this firearm to anyone who is looking for a high quality conceal-carry option. The price is fantastic as most retailers offering the Kahr P380 are in the $600+ range so Buds is definitely the king when it comes to the price range of this little gem.

Reviewed By: on 05/21/2019
Nice, nice, nice. Much nicer than the Rugers and KelTecs I've had in the past and there was nothing wrong with them. Runs 100%, trigger is amazing. Has a really solid feel to it and is easy to shoot well. Came with 2 six round and 1 seven round mag in a nice fitted case.

Reviewed By: on 02/20/2019
INCREDIBLY hard to rack. WAY harder than the two 9mms I own. I'm 6ft 225lbs and I can barely do it, and it's literally painful on my wrist and hand when I do. My wife can't do it at all.

Reviewed By: on 12/04/2018
Over 700 rounds through this little guy and ZERO problems. Some say Kahr pistols are hit or miss, but mine has definitely been a huge hit. Perfect pocket gun, and I carry it regularly in the summer in basketball shorts and a t-shirt. The transaction with Buds was fast as usual, and the gun showed up in perfect condition. Highly recommend Buds, and the Kahr P380!

Reviewed By: on 10/30/2018
I had the opportunity to fire this gun for the first time today and decided to do the whole Kahr recommended 200 round break in period at once. I was apprehensive as people seem to love or hate this pistol. I had a single FTF in 200 rounds including the p Underwood xtp rounds I intend to carry in it. I am very pleased with the handgun so far and look forward to carrying it. The shipping was much slower than I am used to, but the price and product are good to go.