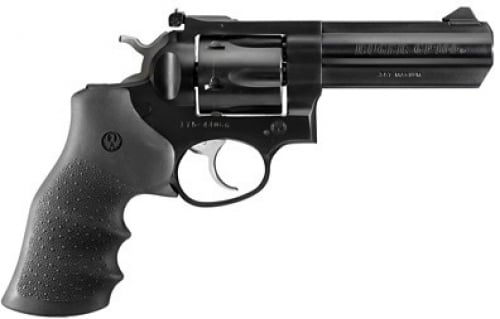 Reviewed By:

RICKEY M

on 07/03/2020
This is my second Ruger GP100 my first had the 6 inch barrel. The 4.2 inch is well balanced, I like the grips, the reliable american revolver is my preferred hand gun. The only complaint is of course the sights, I installed the Meprolight Tru-Dot Adjustable Sight Set, big improvement. I don't need 15 rounds of a semi- auto to to hit or stop an intruder, with this 357 mag it will get the job done in short order.

Reviewed By:

Steven O

on 06/09/2020
Tank of a revolver, that's Ruger for you. I'd highly recommend this for anyone new to revolvers, and start off with the .38 Special, and make your way up to the mighty .357 mag!


Reviewed By:

Mark A

on 04/30/2019
Well made firearm that easily rivals (Or is better than the) S&W 686. Trigger super smooth. The front sight could be better as it is hard to see. (Orange front about $16 from shop ruger dot com)

Reviewed By:

Robert F

on 03/06/2019
Fantastic service and price from Buds, as always! The revolver itself is really nice. I chose the blue steel version. The finish is is OK. Not in the same class as Smith & Wesson. Several swirl marks in the bluing that you would never see on a S&W. It still looks good though. I'm not afraid to carry it in a holster and wear the bluing on it like I might be with a more expensive revolver. This revolver is more of a duty/utility type than one that looks pretty. It is meant to be used. Not sit in the safe. The 4 inch barrel balances nice. The Hogue grip that come with the revolver is just plain ugly! Before I even bought this revolver I ordered a set of grips from Altamont. They are rubber with checkerd rosewood inserts. They look 1,000,000 times better than the Hogue and are super comfortable. I wanted a red ramp front sight to replace the plain black one the GP 100 comes with. Found a factory Ruger one online for $15. Took all of 15 seconds to change and made a huge difference for the better. A lot easier to pick the front sight out against the background. I ran about 150 rounds of a mix of 38 Special and 357 Mag reloads through the GP 100. Zero problems. The trigger was pretty good. Recoil with the Magnum loads was not bad at all. I let a couple of my friends shoot it and they loved it! I think it is going to be a real good revolver that will last several lifetimes. If you are thinking about getting a solid durable 357 revolver than look no further. The Ruger GP100 is it!

Reviewed By:

Tommie C

on 01/20/2019
Could not be happier with my GP 100. Fit and finish great. Fired only around 50 rounds thru it so far. Highly accurate. After disassembly and polishing of internal components and Wolff spring kit the action is almost as slick as my 6" Colt Python. As for Bud's service. Fast,prompt,hassle free,A-1! Will highly recommend Ruger and Bud's to others.

Reviewed By:

Anthony J

on 11/06/2018
The gun arrived as expected. I really like this revolver. The old school look of the blued version of the GP100 is what I was looking for. Shot everything at the range. The sight need adjusting, but that's to be expected.

Reviewed By:

Dale C

on 06/13/2018
My third GP100 and probably not the last. BUT, you need to either be able to gunsmith your own guns or have a good smith who really knows Rugers. The quality control on the last two GP100's I've bought was really not up to snuff, to the point that neither of them should have gotten out of the factory. I spent most of the last three nights working on this one to get it to stop locking occasionally. Initially, the star needed cleaning up before the gun would time up correctly every time. After that, I shot it for a few months. Then to get ready for an upcoming IDPA state match I was comparing my .38 / .357 revolvers to decide which to take to the match and this one has a really good feel to it. But there was something happening with the trigger now and then, not consistently, but occasionally it would just have a stiffer pull. After puttering with it for three days I finally had all the burrs filed and polished off of the MIM (metal injection molding) parts and it was almost right, but would still get "trigger freeze" about once in each cylinder. After taking the gun apart farther than I ever wanted to I discovered that is a tiny piston that rides between the trigger return spring and the pin that pushes the trigger back forward and it needed polishing. Once it was cleaned up with 1500 grit paper the gun finally runs 100%. I've always loved Rugers. But since Bill is gone, it seems like quality control has really gone out the window. Sad, but if you're willing to work on the gun it can still be your favorite.

Reviewed By:

Jessica V

on 04/16/2018
I have always loved Ruger GP 100 model revolvers! This is the first blued variant that I have purchased and although the gun meets all of the typical Ruger expectations for a well-built, sturdy and eye appealing handgun but I think the blued finish should be called a matte blue finish as it really has no luster whatsoever. I think Ruger possibly missed the quality mark on finish as it could have used a lot more polishing and luster....Super awesome handgun but either change the description of the finish or polish the blued revolvers...Overall a good revolver for just about anyone, Especially the price range!

Reviewed By:

Wil S

on 04/10/2018
Its still a virgin. Been to the range but didn't fire anything that day. I bought the GP100 to complement my Security Six. Now I have two .357 Mag revolvers and a lever action. A matched set(ammowise) for if the SHTF. I'm sure it will perform wonderfully. I own at least 12 Rugers, and I love them all. Thanks Bud's Guns. Wil

Reviewed By:

max m

on 02/15/2018
excellent in every way - great speed, good status alerts, helpful staff, good product selection - service level like this seldom found today in the US. great org to deal with.