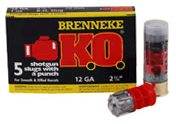 Reviewed By: on 11/01/2021
These are very nice and accurate out to a hundred yards the only time that my uncle used for over 20 years probably a deer every year one shot one kill dropped it in its tracks every time

Reviewed By: on 10/29/2021
Won't use any other slugs

Reviewed By: on 05/27/2020
I can't comment about the Brenneke slugs since I haven't fired them as yet, but I would like to add a positive comment about Buds. This company offers a competitive price, good communcation, and very professional service.

Reviewed By: on 05/12/2020
These cycle effortlessly in my SKO Shorty. Outstanding product and price.

Reviewed By: on 02/26/2019
Function and feeds fine in a 590a1. Pretty good punch too. Bud's makes the buying experience easy and fast as usual.