Customer Reviews for NOBELSPORT 12GA. 2.75" 00-Buck 10rd box
---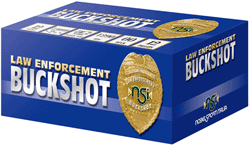 Buy Now
---
This is great ammo at an attractive price. Bud's has some of the best prices on their ammunition as compared to other sources.

These work just as well as the Big Brands without the Big Cost. Thanks and I will be back for more!

Nice shells, work great! I keep them with some other shells I have laying around.

This will be my First time purchasing this brand.

great ammo ran through all of them with no jams or miss fires great price arrived reasonably quick for today.

Goes bang like it should and seems to be spot on for grouping. Using in my bullpup-style 12 gauge.

First time buying the law enforcement brand Shotgun shells. I have only shot 2 so far only to scare off a bear so far. It seemed to have a nice tight pattern a ten feet.
They seem to be good rounds i will definitely be buying more soon. And you can't beat the customer service at Bud's gun shop.

This ammo is excellent for the money. Works great in both my Remington 870 and Mossberg 930. As usual, shipping was super fast. Thanks Buds!

I . bought 3 boxs of this ammo. the price was really good. I also looked at this when I got it. the lead balls in it looks like ball bearings. it also shot real good in my gun. I think this is some of the best 00 buck I have ever bought. I hope when I need more it will still be here. thanks buds.

I use this in my home defense shotgun. During target practice, had zero issues and shot was right on target.

I'm not fired any of these rounds as shit, but I have no reason to believe they wouldn't function as intended

I can not review because my order never arrived. I am still waiting for resolution.

Says what it does, does what it says.
Nice, tight pattern at 15-20 yards.
Delivery was fairly quick, too, all things considered.


These buckshot seem to do the job well and cycle nice through my semi auto 12ga shotguns.

This Nobelsport Law Enforcement 12ga buckshot ammo is awesome!! I had some of these, but decided to add more when I saw they were available. I have shot these before and they are very powerful!! Lots of kick...you're shoulder will feel it for sure. You ought to see what they do to a 3/4" plywood at about 20 feet. Believe me, they will get the job done when it comes to stopping an intruder!! This is great ammo! I highly recommend it! Italy produces some good ammo.

Haven't shot the ammo yet but shipping was fast. Awesome service.