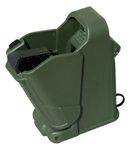 Reviewed By: on 07/07/2021
What a time and finger saver. Now I couldn't live without it. Fast shipping. Perfect service from Bud's as always.

Reviewed By: on 06/24/2021
Super product. Im 75 and arthritic. These allow me to load and shoot without excess pain. If I didn't have these I simply could not shoot. Thanks to the inventors, manufacturers, and Buds for stocking and selling them. Your really helping old folks keep our edge and aim in a hostel world.

Reviewed By: on 04/07/2021
Very nice loader that works as advertised. So far tried with 9mm and 45acp single and double stacks.

Reviewed By: on 04/02/2021
The absolute best mag loader on the market!

Reviewed By: on 01/28/2021
I've used this on single stack 1911 mags, double stack 1911 mags, as well as various double stack 9mm mags. I haven't had an issue yet. It's built well and functions nicely. Bd's had the lowest price too.

Reviewed By: on 12/23/2020
Works great, quick shipment as usual with Buds. Had great results dealing with your company.

Reviewed By: on 12/12/2020
This thing works. I did not get the single stack adapter, and I do not need it. It quickly and easily loads single or double stack magazines. This loader saves on time and sore thumbs. It seems pretty sturdy for plastic, but only time will tell.

Reviewed By: on 08/15/2020
I always thought these were more of a novelty until i tried one myself and going to the range has never been better loads magazines in a fraction of the time and saves your thumbs and fingers so you can focus on proper grip and more this is definitely a must have for every range bag

Reviewed By: on 07/28/2020
Love this product, makes loading mags so easy. I'm going to order another one 👍

Reviewed By: on 07/24/2020
Best loader around. Fast shipping also.