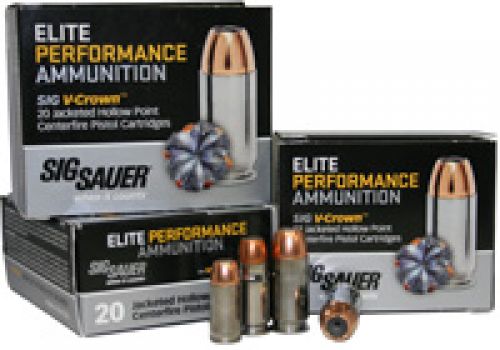 Reviewed By: on 02/23/2020
I shot a half a box of this the day I received it. Man does this turn a watermelon into one mess. I highly recommend this. Good price point and I haven't found a better C/C ammo so far...

Reviewed By: on 09/24/2019
Excellent service A+ Will be recommending buds to my friends

Reviewed By: on 05/07/2019
Sig V crown 200 gr 45 acp works in my 325pd better than any other load I have tried. Good volicity and mushrooms consistently out of the short barrel.

Reviewed By: on 05/03/2019
Great product and price , bought here numerous times definitely buy from buds again . Always fast shipping

Reviewed By: on 03/27/2019
Great ammo at a fantastic price. All of my .45's love this stuff.

Reviewed By: on 03/05/2019
First of all I'd like to say , I'm a new customer to Bud's gun shop and I have found that Bud's has the cheapest self defense rounds that I use great prices and super fast shipping. Sig S makes great self defense rounds Thanks Buds

Reviewed By: on 02/15/2019
What a great price for high end personal defense rounds. They shoot flawlessly so far.

Reviewed By: on 01/29/2019
One of the best ammo for home and every day carry and the price is the best thanks Buds.

Reviewed By: on 07/14/2018
Intended as carry gun defense loads. Filled two clips with 5 rounds left over. Used one round to slaughter a 450 pound pig on my farm (for food). Dropped her like a bad habit. A very humane, clean kill. Gone are the days of using a 9mm hollow point and hoping it does the trick.

Reviewed By: on 07/06/2018
These are the best bullets that I have purchased for my .45