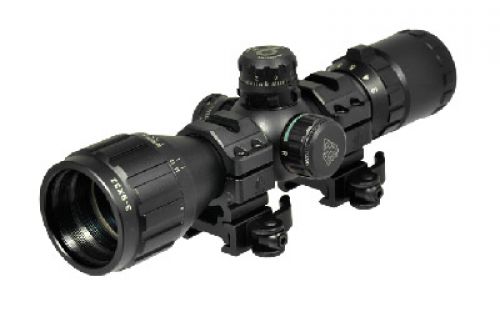 Reviewed By: on 12/01/2021
Great product and pairs amazingly with my diamondback Ar-15. Install in very east and the product is worth the money.

Reviewed By: on 11/09/2021
My first scope so I'm a bit biased but it's great for the price. Dialed it in after a day at the range held up just fine after 400 rounds through my ar

Reviewed By: on 09/06/2021
This is my second UTG Bugbuster scope. The first one works like a charm and was a lot of fun to zero in on my S&W 5.56 rifle. This one is going on another S&W
22 caliber rifle and I can't wait to get this once zeroed in as well. You can't beat the price from Bud's for this scope and the shipping is always quick as well. Thanks Bud's for looking out for all us Second Amendment folks.

Reviewed By: on 06/08/2021
This is a great scope for the money

Well build and will not disappoint you

Just installed it on my AR -fits perfect!

Reviewed By: on 06/03/2021
For less than $100. this scope is a home run. I put it on a Ruger pistol caliber carbine and had no problem zeroing at 100 yards. The locking rings are great at keeping zero set. I bought a 2nd one. Buds service and fast free shipping a plus.

Reviewed By: on 08/18/2020
Nice quality for the money. It mounts easy and well and was easy to site / zero in. I would recommend this scope to anyone shooting at smaller ranges. Another quality buy and transaction with Buds Gun Shop.

Reviewed By: on 07/22/2020
I am so happy with this purchase, it came quickly to my house, it looks amazing, came with two batteries and the green and red light up is so crisp! I was seriously surprised. I haven't had a change to dial it all in yet but it looks SO GOOD on top of my 308 Aero Precision upper. Thank you so much buds for the great service and this wonderful inexpensive product.

Reviewed By: on 07/07/2020
Good Quality no complaints here. Get one

Reviewed By: on 03/02/2020
The only thing I can say is this is a pretty damn good scope. I have it installed on my AR15 rifle and it performs very well for me.



Reviewed By: on 09/26/2019
After using a bore sight I went to the range and adjusted again. After adjusting the scope it was right on. Very happy with the scope and a good price from Buds.