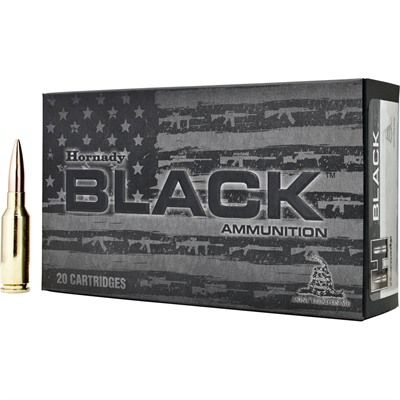 Reviewed By: on 08/17/2021
I'm getting on avg 0.75" groups with my Bartlein barrel .

Black ammo is meant for ARs . Ot makes sense it tends to be more accurate in gas guns

Reviewed By: on 04/28/2021
6mm arc ammo arrived at a reasonable pace , as soon as I can find a BCG I'll shoot some lol

Reviewed By: on 04/27/2021
So this is a great product but the ordeal I went through trying to obtain it was unfortunate. The brick and mortar store in Tennessee had it when I was there but they wouldn't sell it to me because I am a New York State resident and because New York City residents can't purchase ammo and bring it back home with them, they decided it was too much burden on their employees to check a drivers license address and compare area codes so they wouldn't sell to any NYS residents at all. After a lengthy discussion with a courteous and respectful staff member we both came to the conclusion that although the policy was frustrating for me, it ultimately was Bud's way of handling the red tape that unfriendly gun states use to limit the 2nd ammendment that was the real one to blame. I ended up just ordering it on line and will buy my ammo a Smokey Mountain Guns when I am in Tennessee.

Reviewed By: on 12/09/2020
Once upon a time I WAS able to buy ammo inexpensively.. Those days have past but BUDS was the place to be.

Reviewed By: on 10/23/2020
If your 6mm ARC is on an AR frame then this is the best ammo to use. The other two Hornady offerings in this caliber will have flires in your groupings because of damage to the tips during chambering slightly screwing up concentricity. Also your barrel extension feed ramps enter into it. CMMG barrels are more accurate feeders than Brownells Faxon for example.
20" 1:8 Twistbarrels measured 2660fps average muzzle velocities, standard deviation 21fps. They reload well