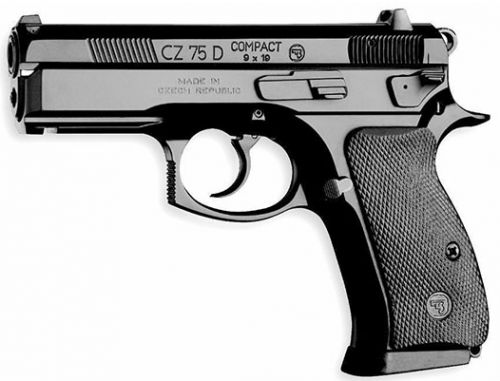 Reviewed By: on 12/19/2018
This handgun is very smooth to shoot. It feels great in the hand and helps me shoot more accurately. The transaction was processed very quickly and efficiently. I have been very happy with this handgun.

Reviewed By: on 06/22/2018
Very accurate shooting not too heavy considering it alloy and aluminum the grip feels like shaking someone's head I Love it

Reviewed By: on 03/23/2018
Excellent firearm, it's seems to be the same as the P01. So far I've put 150-200 rounds through it with problems. Customer service with Buds has always been outstanding. Thanks to Team Buds.

Reviewed By: on 03/14/2018
Ordered on layaway. Great payment option from Buds. The gun itself is extremely comfortable, the double action is smooth, and single action is short and has a very short reset. I fired both 115gr FMJs and 115gr JHPs through it and it ran them fine, put around 100 rounds done range and had zero problems. The pistol is a good all rounder and has become my favorite handgun of the few I own.

Reviewed By: on 02/01/2018
Picked it up today!! Feels great and looks good too!! Been waiting this gun for awhile!! When bud's email me it was back in stock I jumped on it!!! Next in line is the remmi when it comes back in stock!!!!!!

Reviewed By: on 01/31/2018
I have never owned a CZ before now. The fit and finish of this gun is flawless. Buds shipped it very quickly at a very good price.

Reviewed By: on 01/13/2018
This is my first CZ, and it won%u2019t be the last. Out of the case it is very accurate, no problems with the different ammo I fed it, and loved the weight of it. The only down side was with the sights. The front sight was missing paint, and the back ones were not much better, and had a dark coloring. I do plan to change them out for night sights. I was very impressed with the customer service, from Bud%u2019s Gun Shop, regarding the questions I had. I look forward to using this sight more.

Reviewed By: on 07/27/2017
Ergonomic and felt good in my hand. Trigger was okay... nothing exciting.

Reviewed By: on 03/05/2017
I'm all Texan and a former Marine, but boy do I love myself a CZ pistol. Sweet shooter all the way and great IWB carry. Can't recommend highly enough. Thanks Buds and thanks CZ!

Reviewed By: on 01/20/2017
Overall I am quite pleased with this handgun. This is my first CZ, first non-polymer pistol, and my first compact. It is also my first 9mm. I was struggling to comfortably carry my other handguns concealed, and decided to try out the 75D Compact. The ergonomics are great. I was able to shoot this pistol with equal or great accuracy than my other handguns on my first outing. It simply seems to shoot naturally where I'm pointing. Point-of-aim = point-of-impact. It is noticeably smaller than my H&K VP40 and P30. It should carry much better. I knocked off a star for two reasons: 1. The 75D seems to be a bit picky with ammo. On my first outing I had 12 failures-to-feed. I've fired a few different brands of ammo through the handgun now, and all of the feed issues seem to occur when the copper jackets are not polished. For example, when shooting Blazer Brass FMJ with the duller, less-polished copper jackets, the bullets jam on feeding frequently. I filled a magazine with a few different types of rounds and simply cycled the slide until the magazine was empty. Even when the feeding is reliable and smooth, all of the rounds come out with significant scratches and marks on them. The gun simply seems to be a bit rough with feeding. But with a properly cleaned and lubricated gun, I have not had any failures with shiny, polished copper jackets. I also had 100% reliability with Hornady FTX JHP Critical Defense. 2. The double-action is stiff compared to my H&K hammer-fired pistols. My P30, P30L, and HK45 all have smoother double-action pull.