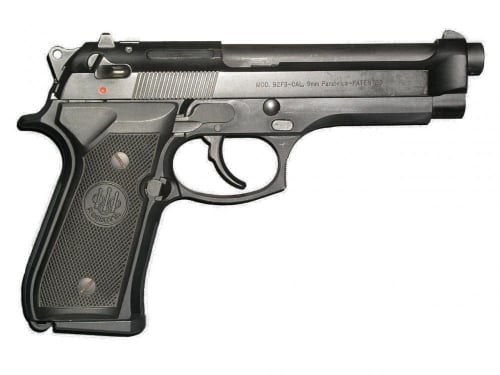 Reviewed By: on 12/20/2021
Great deal for an iconic firearm… everything works like it should and nice action….

Reviewed By: on 08/11/2021
Awesome gun and at a great price very pleased

Reviewed By: on 03/05/2019
Bud's comes through again, as always. Fast shipping. Great communication. The firearm, well, it's a Beretta. Nothing else to say.

Reviewed By: on 10/20/2018
I%u2019ve been wanting to buy a Beretta 92FS for a long time, the fun is a classic and it never fails

Reviewed By: on 01/13/2018
The Beretta 92 series pistol have always been consistent performers. My first example was a 92F from the early-mid 1980's from a group purchase done by LAPD officers and LA Co. Sheriff's Deputies. Since that time, I have owned quite a few, to include several generations of 92F's and FS', Elite's, an M9 and a Wilson Combat Brigadier Tactical. They have always been boringly accurate and reliable and, without having to spend a fortune on either parts or gunsmithing, very tunable and customizable. Quality has always been very good and they always shoot better than I can. Whether purchasing for nostalgic reasons (from carrying a 92 as a duty gun or an M9 in the service), as a defensive pistol or firearm to use in a competitive venue, the Beretta's will certainly fill the roll well.

Reviewed By: on 11/02/2017
Put a Berreta 92fs in your hands and you'll understand why they've been so popular for so long. Just feels right and shoots where you point every time. Tons of after market grips, sights ect to make it your own.

Reviewed By: on 09/21/2017
Bud's comes through again! Fast service and no problems!

Reviewed By: on 08/29/2017
I purchased this weapon and it was shipped to my home quickly. The weapon is exactly what I expected and I wanted to purchase my own because this is our service pistol for the Marine Corps. This handgun is heavy and has a good capacity for 9mm but it is bulky for its size and the purchaser should be aware that there are better options for concealed carry or for home defense. If you are looking for a classic Beretta 92 then this is the best option for you, especially if you qualify for the law enforcement or military discount. Overall, I am very happy with this weapon and I was glad to add it to my collection.

Reviewed By: on 06/19/2017
I am very impressed with the quality of this handgun and how fast Buds Gun Shop was with shipping it. I am a Buds Gun Shop customer for life