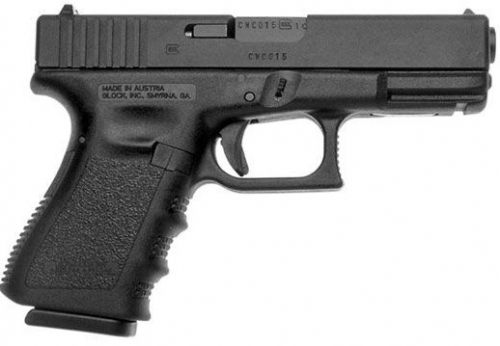 Reviewed By:

David T

on 08/25/2021
When most dealers were out of one of the more popular guns, Bud's came through. Couldn't have been more convenient. Shipped quickly to my FFL. Once I placed my order Buds brought up a list of FFL's in my area. The FFL I normally deal with was listed. Just point and click and i was done. Ordered ammo too. Great price and convenient.

Thank you Bud's

Reviewed By:

scott h

on 08/08/2021
very nice handgun, easy to fire...a sweet piece!!!

Reviewed By:

Michael K

on 08/04/2021
This was the first time I have purchased a pistol on line. Bud%u2019s made it super easy! Shipping was fast & my shipping updates were accurate. I Jane NO complaints! Thank you for your great customer service!

And, it%u2019s a new Glock 19%u2026ya just can%u2019t go wrong %uD83D%uDC4D%uD83C%uDFFB

Reviewed By:

Miguel S

on 07/21/2021
Super easy transaction and fast shipping to my local gun store here in CA! Glock makes a great gun and am super happy with this purchase!

Reviewed By:

Eldridge D

on 06/29/2021
One of the best 9mm made

Reviewed By:

Justin Z

on 04/20/2021
This is my 2nd glock. By far my favorite handgun to date!

Reviewed By:

Enrique P

on 04/14/2021
This firearm feels great in my hand. It's solid, well made, and a nice weight to it. Comes with two mags, wire brush, case. Buds Guns delivered promptly after payment. This is my second purchase from them and will continue to support this business.

Reviewed By:

Hayden S

on 02/12/2021
It's a glock 19 not much to say besides it's almost the perfect firearm. Shout out buds for the great service and delivery speeds. Only shop at buds.

Reviewed By:

Antonio R

on 01/13/2021
From the time I began searching for firearms on this site. To the time of actually purchasing my first firearm. I'm very satisfied with Buds, will continue to do business, recommend them.

Reviewed By:

Michael F

on 12/28/2020
Buds Gun Shop always has the largest selection of firearms online period! Thanks to Buds I was able to buy a Glock 19 while local shops and other online retailers have been sold out for months. Thanks Buds!