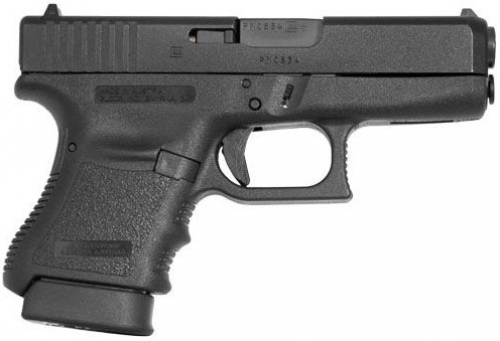 Reviewed By:

Ethan G

on 09/14/2015
Very big Glock fan. This is Glock number 8, and overall love it. Cons: Not as small as everybody online makes it out to be. Its in between a G26 and a G23. A little snappy, but comes right back on target. Grip while skinny, is still a little big. I'm 6' 175 lbs, and was hoping this would be a tucked appendix carry piece. If I weighed 20 lbs more it would work, but as of now it prints something fierce. Pros 45 Glock in a smaller than compact frame. Great for IWB open carry, or jacket over concealed carry. Controllable. Glock confidence. I love this gun, and don't regret buying it at all. I do wish however I could have held/handled one, and compared it to a G30SF first. I would recommend you do so before you buy.

Reviewed By:

Joseph F

on 01/29/2015
Haven't shot it yet but it's exactly as promised. Great job Buds's

Reviewed By:

Joseph F

on 01/29/2015
Haven't shot it yet but it's exactly as promised. Great job Buds's

Reviewed By:

Adam L

on 03/25/2013
I couldn't find what I wanted anywhere but Bud's had it and got it to me quickly and as advertised. Very happy with this transaction.

Reviewed By:

David K

on 09/11/2012
Glock makes an excellent fire arm. I expected no less and am completely satisfied with the pistol.

Reviewed By:

Joshua S

on 07/31/2012
Great concealable gun. It's not tiny, but it is relatively small and quite light. Fit and finish are good, and most of the edges are rounded so it doesn't dig into your side when you sit down.. Feels good in my hand and the recoil doesn't feel any worse to me than on my heavier compact 1911. Very reliable so far. I put 150 rounds through it and only had one failure to eject and that was on the first magazine. Accuracy is better than my aim. Groupings were pretty tight.

Reviewed By:

Tim T

on 06/17/2012
I avoided Glocks for years because of the grip angle but I finally gave in and gave the 36 a try. Even after the purchase I didn't want to like the gun. However, after spending some time with the gun I have grown to really like the gun and it is my primary carry piece. It fits my hand well, shoots accurately, and conceals very easy in a Crossbreed Supertuck. I think this is the Goldielocks gun because weight, factory sights, width, length, reliability, everything is "just right." I can wear this gun to the farm and not worry about it getting knocked around and dirty because it's a Glock and should be treated as such. Highly recommended.

Reviewed By:

christopher c

on 03/03/2012
First time doing business with Buds and was not disappointed. Gun came in two days and have shot over 200 rounds out of it so far with no issues. Currently use this Glock as my personal carry. Thank you Buds will definitely be doing more business in the future.

Reviewed By:

Ronnie V

on 02/17/2012
A+++++ Top Shelf Firearm Purchased From A Top Shelf Dealer A+++++ First Class All The Way!

Reviewed By:

Aaron B

on 01/29/2012
This gun is great! I couldn't be more pleased with the Glock 36. The recoil is far less than I expected and the compact size is perfect for concealed carry. I have 1,000 rounds through the gun and have had no problems with FTF, FTE, or finger pinching, as I have read in some online reviews. It is .45 so it's not for everyone, but if you are already a proficient shooter in this caliber, then you will have no trouble shooting this gun.