Customer Reviews for SR22 .22LR 3.5\" Silver Slide
---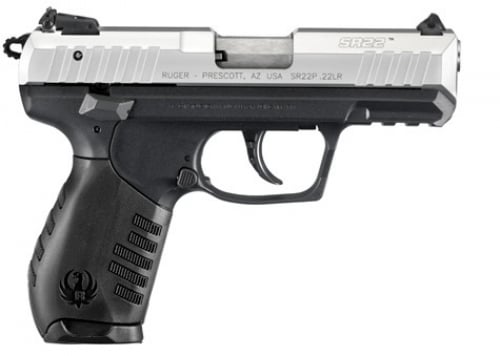 Buy Now
---
This is a great little pistol, very accurate and reliable! I've had it for several years now, and it has served well as a fun plinker and trainer for new shooters. The design is similar enough to several compact polymer center fire pistols that it can be used as a low-cost option to build fundamental shooting skills.

Fun 22lr, there's more accurate and better 22 pistols but this is a good deal for the $. Won't be disappointed.

Once again Ruger turned out a nice gun! I needed the SR22 w/ the stainless slide and black bottom to complete my SR line (SR 9, 22, 40, 45, 5.56, 1911). Buds had the gun in stock, unlike most other places online and brick and mortar stores. Got the gun 4 days after shipment (not Buds fault, UPS held it), but it was exactly what I expected. Never had a .22 pistol that w/o the mag in it the trigger pulled back and stayed back, it doesn't rest til the mag is put in place. Shot it several times with CCI .22 quiet, .22 LR, never had a hang up or non ejection! Thanks to Bud's and Ruger for making this an awesome experience…UPS, not so much…

Very good gun works great. BudsGunShop is the place to buy.

Hi one of the best hand guns to own if you can get one very nice looking and fun to shoot next to Buds one of best gun dealers to know I will be back again

Item shipped quickly and was exactly as described. I have not had the opportunity to get to the range but as it is I am happy to have found this model.

This is my 5th firearm I purchase from buds and will continue to purchase my firearms here. The sr22 is a really nice handgun and shoots lovely I recommend the sr22

What a sweet little plinker. You could easily go thru a box of ammo in a day with this treat. I used several different kinds of ammo with no feed issues, so it's not finicky all!

This is a good little shooter. No problems at the range. It does have a bit of take up in the trigger.

Initially, the gun was very tight when I first received it. After a cleaning and racking the slide a few times (using a snap cap), the gun operates great. It did seem to function better with certain types of ammunition, so don't be afraid to try a couple if one brand stove pipes. CCI Standard seemed to fire nicely from this firearm. This is a neat little 22.

Great gun, fits the hand well, just the right weight! Excellent price

Took my Ruger SR22 to the range, fired 100 rds.. Operated excellent no flaws. A great buy.

I received the gun on Tuesday. I cleaned the gun and took it out for target practice on Thursday. The SR22 was a pleasure to shoot and I had no problems what so ever with it. This is my third purchase from Bud's. I hope to purchase another SR22 from Bud's in the near future. Ben Dillard

What a sweet little pistol. After a thorough exam, I can see why Ruger has such a loyal fan base. Will sit this sweetie along side my 1987 Red Label 12 ga. Americans can still make world class goods!

I really like this little handgun. Out of all the pistols I own this has to be my favorite to shoot for fun. I have and had several different .22 handguns but this one was definitely worth the price. (which was another great deal from Buds) If you have been thinking about buying one, DO IT. Prices are only going up every year and this lil guy should hold its value for some time. Has some nice safety features as well. I love it.

purchased sr 22 for my wife's birthday and she absolutely loves it! picked it up from my dealer and put 50 m22 Winchester and 50 cci hp with no issues. excellent Ruger as usual.

What can I say except, wow! This is my 3 order from Buds and they just keep reeling me back! Used the regular 90 day layaway plan to buy this as a Christmas present for myself. Speedy shipping and great customer service just make Buds awesome! I just wish the layaway threshold was a little lower. Now for the gun itself. This stainless slide beauty has eaten up every type of ammo I've put through it. Everything from the crappy Remington. Thunderbolts, to CCI Minimags has gone down the pipe. If one of the rounds fails to fire on the first strike, the double action trigger pull (which is fair) helps me get it right. Single action trigger feels amazing. First group right out of the box, no cleaning, was about 2" at about 25 feet. The extra grip it comes with also helps if you want someone else to shoot it that maybe prefers a smaller grip. All in all, extremely satisfied customer right here!

Nothing little about this 22. Extremely accurate, low recoil; after 300 rounds of Fiochi, Federal and Remington, no FTE or FTF. The gun itself is light and with the 2 swap-able grips it fits my over sized hand comfortably. This is a great first gun (it is my first) and a terrific gun to take to the range for target practice. Buds service was flawless. My FFL received the firearm within 2 business days. Ruger Rules!!

I am loving this litte 22lr from Ruger! I have shot about 1000 rounds through it of various kinds and it has worked great! I use it for helping train friend that are new to shooting on the basics of everything from grip and trigger control to sight picture. With it's light recoil and the same manuel of arms as larger caliber simi auto handguns this works great for new users. If you or someone in your family is new to shooting then you can't go wrong with the Ruger SR-22!

This was my first gun. I love it. Easy to field strip and clean. Stop reading this and buy it already!

Haven't shot the gun yet, but the delivery was fast and the gun looks great!

Very impressed with my new Ruger SR22. Excellent quality product. Ordered on 14 October and it was delivered on 17 October.

GREAT FIREARM , SHOOTS , 22 LR ...LIKES 1000 / 1150 VELOCITY ROUNDS .... OUT OF THE BOX.... ON TARGET AT 17 YARDS...NO FTF / 2 FTE IN 250 ROUNDS... MAG LOADS EASY ....GREAT ALL AROUND HANDGUN...AND CAN BE A CC GUN.....

this is a real nice shooting gun,I picked it up today 3-7-2014 went straight to the range. shot around 200 rnds cci mini mags and some federal auto match bulk and not 1 malfunction, FLAWLESS . ruger has made a great little 22 I love the sr22 already. good gun and good service from buds, I thank you both.

This weapon shoots great out of the box. We have put over 500 rounds through it and it has no problem feeding all types of ammo. It is very accurate and holds tight patterns. I was very impressed as it patterns as well as my Mark III. The decocker is a nice addition for a 22 pistol. The extra grips (thinner and thicker) are nice for the kids or adults. It has become a family favorite.