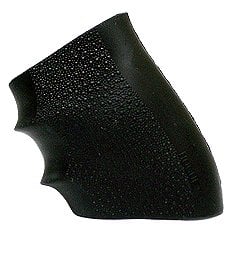 Reviewed By:

Archangel V

on 08/12/2021
A little bit hard to put on but once installed it works.

Reviewed By:

Tim J

on 06/23/2018
I haven't shot my Bersa Thunder Pro since I installed this grip and it was a major pain getting it installed, just as the instructions mention. It is a tiny bit loose at the top but nothing that shoud make any sort of difference in performance, I do love the feel of the gun in my hand with this grip.

Reviewed By:

Arnulfo F

on 02/06/2018
I bought one them put them on most of my semi auto pistols. It does give you a solid grip, stay on the gun does not slip off, highly recommend it. Thanks buds great on quality product selection and support / shipping.

Reviewed By:

Arnulfo F

on 01/04/2018
Very tight fit does seem like it won't fit but you gotta struggle to put it on after that battle it's perfect not to worry If your hand will slip if wet !

Reviewed By:

Michael W

on 11/16/2017
Great fit for any Hi-Point pistol. Put one on my C9 9mm, JHP 45 ACP, and JCP 40 S&W. Makes all the difference in the world. Turns the slick composite grip into a non-slip, soft, comfortable grip on these heavy pistols. Takes a little work to get on, but be patient. You'll like the improved grip.

Reviewed By:

Timothy B

on 07/19/2016
I purchased this Hogue (Rubber Grip Sleeve), for my Hi-Point .45 acp. It took some patience, but as advertised, it fit nice & snug! I'm very-pleased with the improved grip, it provides. A good quality product!

Reviewed By:

Carole L

on 07/07/2015
I put Hogue handall rubber grip sleeve on my Taurus Pt809 worked out well. Get them on Pt809 I spray some armor all on polymer frame where grip was going to be make slick slipper on frame where Hogue grip sleeve was going to be. Than slowly work Hogue grip sleeve on Pt809 once grip sleeve on Pt809 frame slip rather easily on to with out to much effort . Very happy how thing work out Hogue add great feel how pt809 feels in my hand now.

Reviewed By:

Paul J

on 01/22/2014
this product is Gut-n-Tight !!