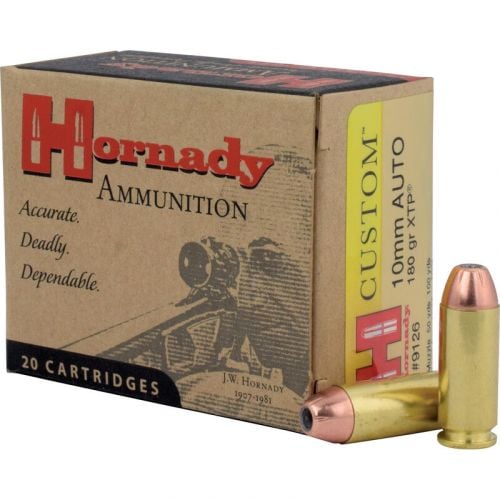 Reviewed By:

Jason B

on 05/15/2021
Never tried this ammo until I purchased it, shot really well, not to snappy.

Reviewed By:

Kimberly S

on 03/31/2021
Love this business. Buds guns will have ammo when no one else does. Hornady ammo great quality. Great service & shipping notifications so I know when to expect delivery of products. Would recommend to anyone.

Reviewed By:

Erik M

on 03/23/2020
Only received 5 of the 15 I ordered and cannot get through to Buds to find out when the rest will ship.

Reviewed By:

Charles S

on 02/27/2020
Great ammo for your 10mm. Use it for my EDC. Function is flawless.

Reviewed By:

Kelley M

on 09/18/2019
This is nothing but a good choice for your 10. Functions well in my RIA with excellent ballistics

Reviewed By:

William S

on 09/06/2018
Really Good Ammo Bought a couple boxes of this to try in a 10mm 1911 I had recently purchased. The ammo fed without issue and was fairly accurate. Probably my choice for self defense if I were to carry the gun around people more than hiking or going outdoors.

Reviewed By:

Tammy M

on 08/30/2018
My favorite ammo for a pistol. I like the 10mm XTP. The 185 grain XTP seems to be a good fit for the glock 29. Theb200 is a good round but sisnce I got the Pearce grip extension s. It seems to keep the pistol lined up for follow up shots!

Reviewed By:

william T

on 10/16/2016
not cheap but hits hard not bad ammo

Reviewed By:

Richard M

on 12/28/2014
Happy with purchase I feel one can never have enough ammo ! Thanks Buds received in a timely manor....

Reviewed By:

Richard M

on 12/16/2014
Great quality decent price considering