Customer Reviews for Heritage Manufacturing Rough Rider 6 Round .22 LR 6.5" Blued
---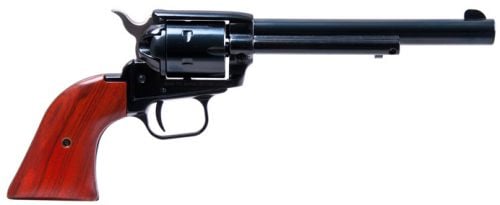 Buy Now
---
Good .22 LR single action revolver at a good price. Made in USA.

Very nice revolver! Thank you so much for the great price and super fast delivery . Buds Guns is the best!

Got this gun for my wife to practice with. Nice revolver. Would recommend to anyone. Bud's ships very fast.

Nice little affordable pistol for plinking I would recommend great for beginners.

love it have purchased two so far thumbs up to buds

Hello, This gun came well packaged, shiny and new, very simple and easy to shoot pistol with great accuracy !

I bought it and love shooting it it's dead on for 50 yards it's been a good gun

good product at a great price.

Arrived in great shape, preforms as it should, no problems here! I would recommend ordering from BUD`S! 5 Stars, get u some, I did!

I've had this revolver for a few years and have nothing but praise for her. Reliable like any revolver should be, well balanced, accurate(consistent) after a minimal sight job. Even has a safety - good for a beginner regardless of age. If you find yourself up for some target practice/plinking but being short on larger calibers ammo, you would definitely enjoy this smooth, easy on the hand and the wallet single action revolver.

Great purchase ! Have several hundred rounds through this Rough Rider with no issues. Very pleased with this gun. Fun to shoot. Buds was wonderful to work with… Fast shipping, well packaged, no damage !

Excellent plinker revolver. I've owned four revolvers from Heritage and none of them have ever disappointed me. The gun in question feels good, looks good, shoots straight and is easy to maintain. For the price the quality can't be beat.

This is one of my favorite pistols to shoot. The ammo is affordable and it allows me to practice more often than I can with other guns. It's so much fun plinking targets and practicing my fast draw.

Excellent little revolver for plinking and you can't beat the price. I was pleasantly surprised by the heft of this little gun and the fit and finish were surprisingly good. I also purchased the .22 Mag cylinder just to step it up a notch. Absolutely no regrets buying this revolver. Nice job Heritage!!

Not as good as I hoped. I was looking for an inexpensive knock around gun to keep in the motorhome or tote around in the 4x4 or ATV. Took it to the range and found a load it liked and it grouped fairly well, but was low and left. Had to bend the front sight and file it down to get it to hit where I point. I really don't like that; to me, a factory new gun should shoot at least correct with windage; elevation depends on ammo, but I didn't like having to bend the front sight. Then, shortly after purchase, the gun locked up and the cylinder would not rotate. I was able to pull the cylinder out and put it back in, but it would not turn. I had to mail it back to Heritage for repair. To their credit, the repair was effected fairly quickly and the gun sent back to me in good working order. They had to replace parts to fix it. Again, does not inspire confidence in the gun. I have owned many, many revolvers over the many years I have been shooting and never needed to have one fixed. I put it back in my gun safe after the repair and have not shot it since. Just sort of lost it's luster for me. I will take it out and work with it more soon, but it's not all I hoped it would be. I had a Ruger Single Six stainless many years ago; wish I had it back! Anyhow, your mileage may vary but it's been a letdown for me.

I own 3 of these, they shoot great!!

Heritage is well made but sights are a pain to pickup!!

This is a nice plinker pistol for the money, shot many rounds through it without a problem, and always fast and easy shipping at Buds!!

Good quality for the price and shoots flawlessly!


Excellent service from the team at Buds Guns Shop. The Heritage arrived as informed by the tracking information. The pistol is great, fun to shoot and very accurate. You will love this gun as much as my son, since it was a gift I gave him..

This was not the same case, this pistol came with scratches and dents that dissatisfy me. I had purchased you other more guns and this never happen before. Thanks

I bought two of these at Christmas, one for my sister and one for my brother-in-law. The price of $124.00 was outstanding so I also bought them a Bullpup case, earplugs, and a cleaning kit. My sister is learning to shoot for the first time at age 68 so I got my brother-in-law the same gun to teach her on. It was a great deal.

This is an awesome gun for new shooters and just plan ole fun. The price and speed in which I received it awesome.


Great little revolver and you can change the cylinder out to a mag for around $25 definitely worth the price.

Gun came with a dangerous hair trigger and sometimes the hammer wouldn't stay cocked. Contacted Heritage and they said they would email me a shipping label to send the gun in for warranty work. After several days no label sent so I reached out to Bud's. Bud's said if I didn't get a label in a few days, they would send me a label. Label finally came from Heritage and I sent the gun to them. Don't how long I will need to wait for the gun's return. Thanks to Bud's for offering a shipping label.