Customer Reviews for Walther Arms P22 CA Pistol .22 LR 3.42" 10+1 Wal
---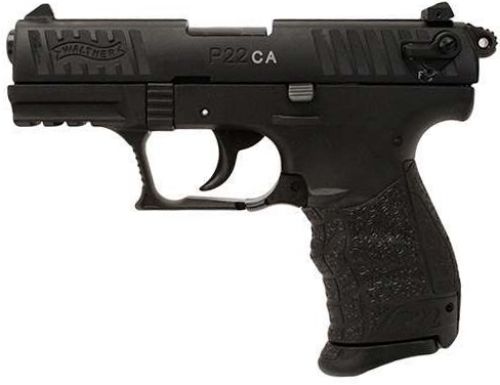 Buy Now
---
Loved the gun i tried federal and Remington amo it ate them all no miss fire And as Usual Buds kept their professional rhythm and sent the gun in three days thanks to them hope you guys will keep the same pace in future

Nice little plinking gun. Bud's was great. Affordable pricing and fast shipping.

It's a nice little 22 but picky on the ammo!

I love it. Great for fun at the range and perfect to use for train newbes.

Once I was able to find the exact gun I was interested in purchasing, the whole process with Buds Guns was seamless. From purchase, and quick delivery to my FFL of choice, it was most assuredly a positive experience. This little ergonomic Walther .22LR pistol shoots beautifully, and is perfect for my local travel/protection. I`ll patronize Buds Guns again.

A great pocket pistol, I can carry it in my cargo shorts pocket and its light enough not to tug down your shorts. It fires best with CCI ammo but will feed almost any stock ammo.

The Walther P22CA has some issues. The spring not having a cap makes it very difficult to put back together for cleaning and can be replaced for 25.00. The clip release is clever but in a pinch would be problematic for my fat hands as the clip gets caught and doesn't just drop out, again not the biggest issue as I wouldn't be carrying this for self defense. Now the barrel end piece is glued on due to this being a CA (California) weapon?! which I had no idea about when buying it but it was easily removable by heating it with a micro torch and using pliers to unscrew, then putting the after market M8x.75 to 1/2-28 Adapter with Thread Protector Walther P22 S&W M&P22 from ebay for 14.00 was easy and now the gun can be silenced.
As for the shooting it does feel good in the hand almost molded perfectly, little to no recoil makes for good accuracy.

This is a fun little pistol, but I was a little disappointed. The aesthetics are great and it's super accurate, but REALLY finicky about ammo. I put at least six different types through, even every type of CCI, but it was really prone to misfeeds, failure to eject, you name it. I even cleaned it after the first outing and took it out again, still same issues. I was hoping to eventually let my daughter carry it, but it's just too unreliable.
Great for plinking, but that's about it.

My favorite .22lr pistol so far!

Fun pistol, just seems to be sensitive to ammunition configuration!
This P22 CA is my 3rd Walther. Out of the box, I put 100 rounds of Win. ammo and had some trouble with cycling and failure to expel the empty cartridges. I have since ran 50 rounds of Rem. Thunderbolts and she worked perfectly!
Lots of great information available on the P22 also.
We'll see!

I bought This for my wife. She likes the feel of it and the weight of it.

Handles well, accurate, nice action. Has the feel of a larger caliber firearm

got the gun and tested 40 rounds works fine no problems I used 22lr blazer bullets.has a nice trigger pull and recoil.

Good 22 to plink and maybe squirrel/small varmint hunt with. A must is to replace the spring with a "Sentinel" Captured Spring Guide Rod. Buds did ship fast and
had a decent price.

Buds, 5 stars across the board. I've been more than happy with Buds sales process and communication by email/cell. Walther P22 CA, Negative Stars. FTF/FTE/Casing stuck in chamber. Cleaned and oiled before shooting. Used Aguila, Federal, Winchester, CCI Mini Mags and Stingers(NO SUBSONIC). Nothing worked. Could never get more than 2 rounds off before failure. Highly do not recommend if you live in CA. Would not buy again!

Yes, it really is that much fun wrapped in a pretty little package.

Great little pistol! After a short break-in, seems like it will shoot whatever you feed it. Initial misfires were the result of riding the bolt forward. Let it slide home on its own and there won't be any issues.

Great-great little handgun, I haven't yet tried shooting, but, I am a bit concerned that for an unknown reason, although, it is 2020, buds have sent me an older version of P22 with all issues that have been fixed in 2018 (?) in a "gen2" of the gun: in my P22 the recoil spring is not captured. Was the gun sitting on the shelf for a few years? I'm gonna rate it 4, then, we'll see.

Good gun for the price. Comes with everything you need

I picked up this gun as a little 22 target pistol, and once I got it, I most definitely did not like it. The gun is a bit onerous to take apart to put that lightly. The disassembly / reassembly process turned me off right away, It is a struggle taking this gun apart and putting it back together. If a novice bought this as their first gun, they would not know how to reassemble it after they broke it down and the spring popped out? Horrible design, when you can pick up 22 caliber rails for Glocks that are much easier to use.this Walther gun basicaly sucks!!

Had a few Failures To Eject (bulk ammo, Fededal AutoMatch) Ran well with CCI mini mags. Great pistol for beginner shooters and Fun overall.

Very nice compact handgun! Only complaint would be is that I have bigger hands so my pinky barely hangs half way off the end of the magazine but it does not affect my accuracy. Very little recoil and does not have any bells or whistles so I would highly recommend the P22 as a great introduction handgun for those looking into getting into shooting. Also, very hard to beat the price from Buds! Cost at my local shop was $500!

Happy with item and price will buy again from buds!