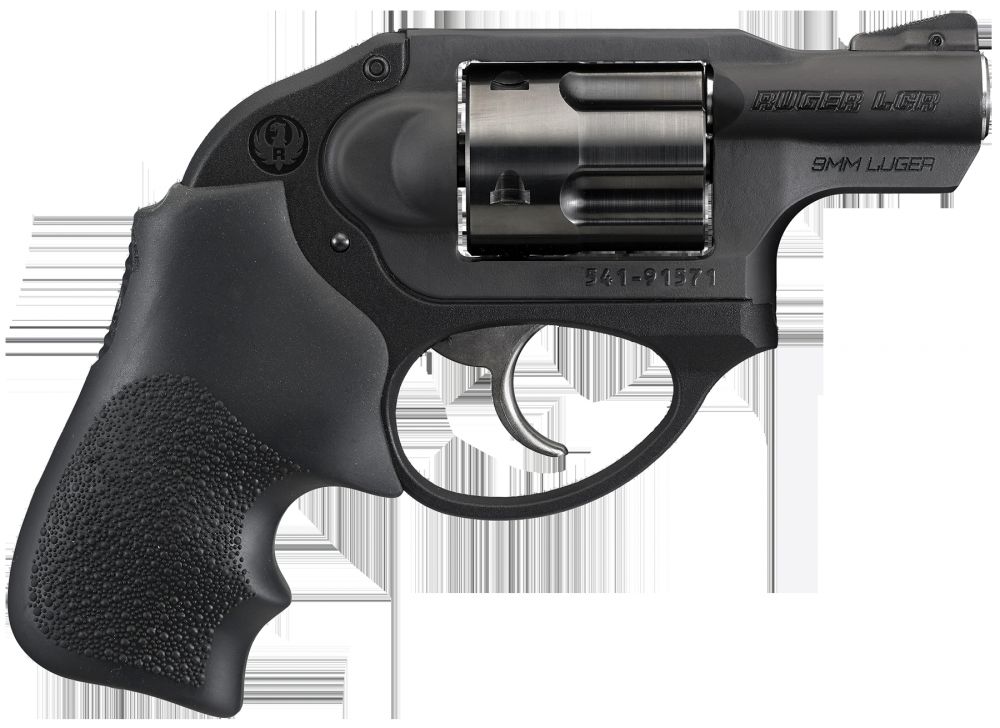 Reviewed By: on 01/18/2021
Hard no...IMPOSSIBLE) to find, highly sought firearm. Popular 9mm caliber in the ever-so-reliable, easily concealable, J-frame! Easy pocket or IWB conceal carry all day long. And at the range - superb accuracy and firepower.

Reviewed By: on 04/17/2019
This is a snappy little revolver and have to admit it does start to get my hands tired after 100 rounds. But it shoots really accurate and the trigger is really smooth. I really like the moon clips, I bought 20 so I could get a full 100 rounds in at the range without having to fuss with reloading. I have to say that I can reload as fast as I can pop another magazine onto my glock. I can carry a bag of these loaded moon clips in my pocket with less space than a magazine. Also the gun is super light to carry in a pocket. When inside a ITW holster, it feels like there is no gun there. This is a really great purchase for carry.

Reviewed By: on 02/08/2019
I bought this Ruger LCR in 9mm for my wife to carry as her personal defense gun. She loves this gun. I had purchased her the Ruger LC9S (semi-auto) in 9mm, however, she did not like pulling the slide back, so I purchased this Ruger wheel gun and she is now a happy camper. Therefore, so am I..."Happy Wife, Happy Life". All is good in our world.

Reviewed By: on 12/12/2018
I have not had a chance to fire my new Ruger LCR 9mm yet. My comments concern my customer experience with Bud's. I have made three firearm buys from Bud's in the past. Each purchase was shipped promptly and arrived at my FFL without difficulty. Bud's customer service is outstanding. FYI for anyone in the Nashville, TN area. I use Bellshire Hardware as my FFL. They charge $20 per firearm for the paperwork. When the shipment arrives at their door you get a friendly call that day & can come by during business hours to pickup without any hassle. This will not be my last purchase with Bud's or use of Bellshire Hardware.

Reviewed By: on 02/20/2018
I purchased this a year ago, specifically for concealed carry. Now, I can attest without hesitation that I could not be more satisfied. For me, this is perfect for CC. I carry inside waist band, with a soft nylon holster, so the lack of slide or hammer make this incredibly comfortable to carry. Plus, I'm willing to sacrifice the 2 or 3 rounds of capacity in a comparably sized semi-auto for the comfort in knowing that if I pull the trigger it will fire -- no safety/lock or miss-feeds to worry about. To top it off, it's a 9MM revolver!

Reviewed By: on 01/23/2018
After four trips to the range I have finally become comfortable with this gun and its accuracy. I added a HI VIZ site and the larger Houge grips which made a big improvement. I was new to shooting a small Double action only revolver . It took some practice time, watching lots of youtube videos and dry firing to become proficient. I am also becoming a fan of moon clips and recommend ordering a few extra clips. The X version was not available when I ordered, I would have probably ordered the hammer version for better accuracy at the range. I only used 115 gram ammo and only had 1 issue when a fired bullet was left in the cylinder. Expert at the range said he suspects it was bad AMMO. I am am pleased with my purchase and BUD's service.

Reviewed By: on 12/25/2017
An excellent gun. Beautiful craftsmanship, fit, and finish; as usual for Ruger. I carry a S&W Sigma 9mm, a Glock 21 45acp, a Para Slim Hawg 1911 45 acp, and occasionally a Bersa Thunder 380 (not all at once :) ). Lately however, I notice that my "go to" when leaving the house is the LCR. It fits my hand perfectly, aims well instinctively, and has a smooth consistent trigger pull. It's light and you feel it when shooting but entirely acceptable. I usually throw a couple of loaded moon clips in my pocket for a 15 round go. The clips work much better than I imagined and it's a fast reload. As for carry, it snugs in real tight so I don't worry much about clothing. The grips are just sticky enough for a positive grasp and pull. In a pinch it slips into a pocket fine. I just got an ankle holster, left leg with gun on inside of leg for right hand draw. Thought the grip would pattern but it's an easy carry there without showing. Once I mastered the hold while pulling the trigger I find that it shoots right where I aim, sights appear perfect from the factory. Overall, one of my favorite guns.

Reviewed By: on 09/13/2017
Great gun , I really like the 9mm in a revolver! Just aim and fire no safety's! Very happy with this purchase!

Reviewed By: on 05/11/2017
This is really a good revolver. 300 flawless round on its first day out...everything was great. I shot 100 rounds of my reloads without issues. i did have to push my reloads in the cylinder real good because I couldn't close it. In the future I will have to tighten up my tolerances on the cases. I have both the 38 and the 357 and I can say Ruger has changed something the trigger on the LCR or at least mine. My LCR 9 trigger is actually lighter than the other my other two LCR's. As usual for the LCR's the 9mm shoots a little high and need a six o'clock hold. I'm glad I bought the 9...its my new carry.

Reviewed By: on 08/01/2016
Love my LCR 9mm - actually sold my wife's LCR 38 for this so it would be less reloading since I have a lot of 9mm firearms. The LCR platform is the lightest best triggered wheel gun I have fired! The bearing trigger is smooth for the length of the pull and breaks cleanly. Of course it's a long pull DAO. Great gun - highly recommend any in the LCR series.