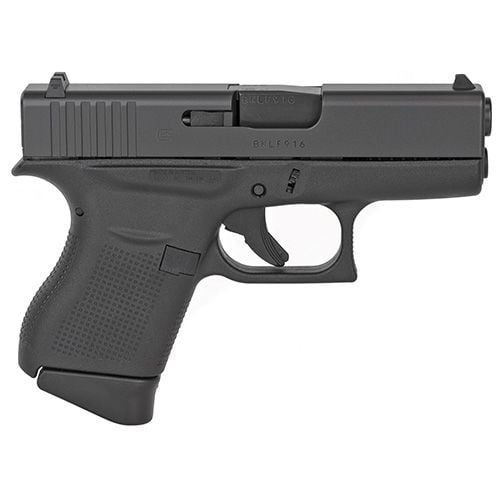 Reviewed By: on 12/14/2020
Love this gun. My favorite carry gun

Reviewed By: on 04/15/2020
Shoots very well with accuracy. Bought a +4 mag for it and it feels great in your hand.

Reviewed By: on 06/20/2019
Unfortunately, I haven't been able to shoot it. The gun was purchased for concealed carry for my wife, and she loves it so much that she won't allow me to take it to the range.

Reviewed By: on 03/26/2019
Great gun which is obvious because it's a Glock. It just work it's "Glock Perfect". Fun shooter and I highly recommend. As for buds gunshop, fast delivery and painless FFL transfer. I will be returning here in the future for more firearm purchases.

Reviewed By: on 02/21/2019
great pistol no problems . goes with me everywhere. and accurate for a smaller pistol

Reviewed By: on 02/05/2019
Nice gun..Great size,comfortable to shoot...It's a Glock, it works.....First time to the range. right out of the box, flawless performance. CCI 115gr. Am. Gunner 124+p. Rem. htp 147gr. It eats them all. As usual Buds is perfect!!!!!

Reviewed By: on 01/31/2019
What is there to say..... its a Glock. I will admit I used to hate Glocks..... until I bought one lol. They really are great dependable guns. Love my 43, very easy to conceal and very accurate. If you are looking for a great conceal gun then this is the gun. Add a Strike Industries +2 mag extension and you have a great setup. I would recommend this gun. Buds is top notch! Will buy many more from Buds.

Reviewed By: on 12/22/2018
I have made this my EDC gun and like it a lot. Shoots to point of aim and no problems at all.

Reviewed By: on 12/01/2018
Greatest thing i have purchased in awhile. I couldnt ask for a more teliable gun than this and definitely was worth every penny. Looking forward to doing more business.

Reviewed By: on 11/28/2018
Shopping at budsgunshop is a great experience. The products are always what you expect and are always shipped quickly. Budsgunshop is very convenient, easy and exactly what you want. It's by far my favorite online firearm site. Thank you.