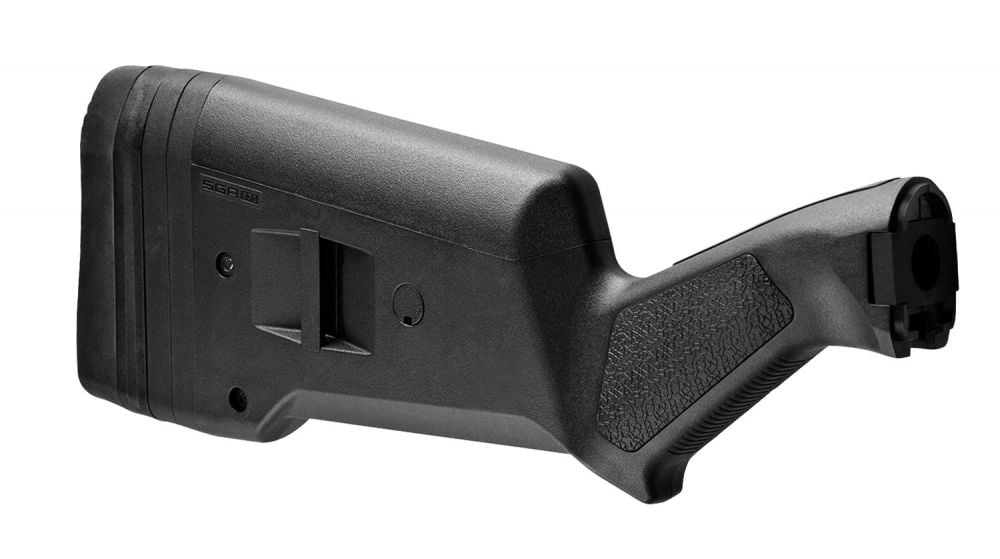 Reviewed By: on 07/25/2021
This stock feels very solid (not hollow and cheap). The adjustable stock length works great for someone that is 5ft 6 and does not have long arms......it is also great if you are going to add an additional recoil pad. The grip is excellent for those of us that don't quite want a pistol type grip but still want something we can get our hand around firmly.

Reviewed By: on 06/16/2021
I bought the Magpul stock for a home defense shotgun (H&R Pardner Pump Protector; it is an 870 clone). It fit no problem and I like the stock very much. The grip angle is much more comfortable than the standard stock that came with the gun. I've taken out all of the spacers (I'm 5'10") which makes the gun easier to maneuver and allows for a more aggressive stance when firing the weapon. It's also much easier to hold the gun with just one hand. Highly recommend it.

Reviewed By: on 05/07/2020
Buds took a month to ship my items and I couldn't cancel. Magpul is excellent! Buds is another question.

Reviewed By: on 03/23/2019
Buds is always awesome. So far no problems always the right part at the right price.

Reviewed By: on 10/23/2018
Wonderfully adjustable and comfortable. Thanks Buds

Reviewed By: on 04/01/2018
A lot nicer than factory stock IMO. Fast shipping.

Reviewed By: on 10/17/2017
Wish it had anti rotational qd sling plugs included. No problems!

Reviewed By: on 07/14/2017
Great stock! Makes it easier for me to handle my gun.

Reviewed By: on 03/07/2017
Great product on my 870 tactical. A little rough on the jaw bone when shooting 3" though.

Reviewed By: on 11/05/2014
So far love the way it looks and feels to other butt stocks I have had on the same shotgun. I have yet to shoot it with the Magpul on there but I am sure it will work just fine. I have not tried any other length of pull spacers yet. Now my 870 is almost completely Magpul edition Tactical express. I have shot a 870 with this stock on it before but not with all Magpul furniture. Buds as always provided fast shipping and a great product at a awesome price point. I will keep buying for Buds in the future. Just wish they would provide more shipping options but the 10.00 flat shipping does include insurance.