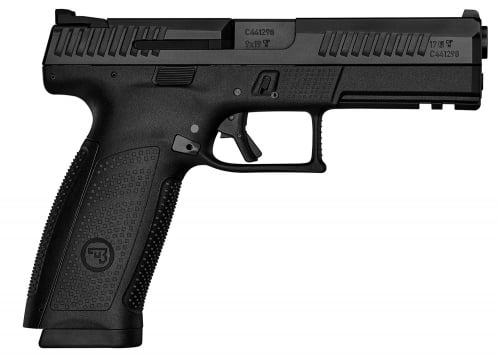 Reviewed By: on 07/27/2021
I've never owned a CZ pistol before the P-10 but folks who own CZ swear by them. You do get a lot for the money. First off, this is a big heavy combat pistol - would be tough to conceal carry this baby. It's full size and then some. With that said, I love the 19+1 round capacity. The trigger is very smooth and predictable and the weight and balance of the pistol tends to offset recoil. This is a very accurate pistol and a pleasure to shoot. Overall very impressed with the quality and performance of CZ.

Reviewed By: on 06/16/2021
Omg!!! This is my favorite handgun of my collection. Not the most expensive but the most fun to shoot and handle! Love the mag capacity and the feel in my hand. This full size baby is ready for anything. Buds great prices made it a great purchase for me. Thank you Buds Guns!

Reviewed By: on 02/02/2021
Its a great gun for the price. Runs smooth, flawless and in my opinion has a better feel to it than a glock.

Reviewed By: on 01/11/2021
I can't speak to the quality of the firearm yet as I don't have enough ammo to go to the range, but per usual the process of purchasing from Buds was superb. Received the gun within 48hrs of purchasing and it arrived it flawless shape.

Reviewed By: on 08/16/2020
Finally got a chance to take this out to the range and boy, I couldn't be happier with it! The P10F is very familiar, as far as polymer frame handguns go, but it's a true CZ feel all the way. Probably the best stock trigger I've ever felt. Very easy to be accurate with. Buds was a pleasure to do business with as well.

Reviewed By: on 08/12/2020
Finally got to the range. Great gun. No problems at all. Thanks buds for fast shipping.

Reviewed By: on 07/29/2020
Just brought this home from the range and it shot like a dream, I ran 200 rounds total using 3 different brands of ammo with no malfunctions. Smooth shooter with easy recoil. Sights were on right out of the box and the pistol shoots point of aim. The trigger is smooth with minimal take up, a defined wall and a nice crisp break. Very happy with this purchase and would say if you're in the market for a full size striker fired pistol this deserves a serious look.

Reviewed By: on 07/10/2020
Everything you've heard is true...Amazing gun!

Reviewed By: on 07/09/2020
This is the best striker fired gun I've ever shot. Amazingly smooth action. Very manageable recoil. Highly recommend if you're in the market for a full size beast.

Reviewed By: on 06/04/2020
The CZ P10F is great, it's my first striker fire and I'm impressed so far.